---
Cadets from the Combined Cadet Force of Hele's School in Plympton, Devon, have enjoyed an action-packed programme of activities during this academic year.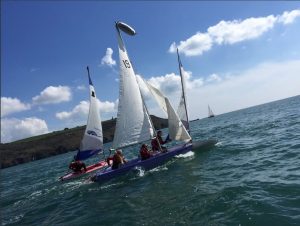 The 150-strong contingent, one of the most successful tri-service CCF units within the state-funded sector in the Wessex region, is run by 11 staff headed by maths teacher Lieutenant Kevin Randall.
"We've had a very full programme this year," he said. "The RAF section have been on half a dozen flying days at RAF Boscombe Down and
the Royal Navy cadets have been out sailing and power-boating at HMS Raleigh at Torpoint."
The Army section returned to school this week from camp at Scraesdon Fort just across the Tamar Estuary.
Activities included skill-at-arms, air rifle target shooting, camouflage exercises, 'basher' building, observation and reconnaissance.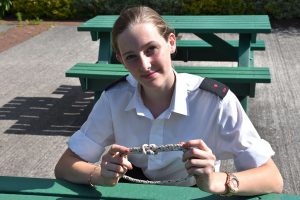 Geography teacher Lara Miller comes into her own in that environment, drawing on her experience as a Senior Under Officer with Liverpool University Officer Training Corps. She has since passed selection for a Reserve Commission course at Sandhurst next summer.
"When I was looking for a teaching post in this area to be closer to my partner, a Regular in the Royal Marines, I chose this school mainly because it has a CCF contingent," added Lara.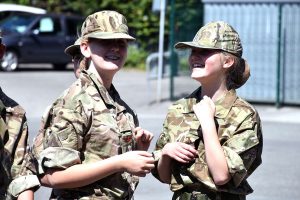 She helped to coach Hele's teams in the Ten Tors Challenge recently. "The 35-mile team did very well. And although the 55-milers had to pull out because one of the team suffered an injury, I was really proud of them because of the way they stuck together."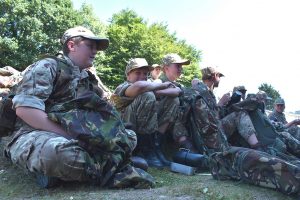 Principal Justine Mason is a staunch advocate for the CCF, claiming "The Combined Cadet Force is an integral part of what makes Hele's School a special place to be. The opportunities afforded to cadets and staff alike are phenomenal and help to shape character, build resilience, develop teamwork, and grow leadership at all levels; a wonderful blend of challenge, fun and memorable experiences.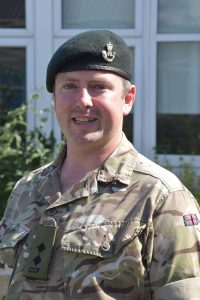 Involvement and visibility in the community is important to us and I am proud to say that Hele's School CCF has a high profile in Plymouth through representing the school and the contingent in a wide range of local events, such as poppy selling, the Armistice Day parade and providing checkpoints on the whole school sponsored walk. Undoubtedly, our school is richer through having a CCF contingent."
The CCF contingent at Hele's School is long-established but other schools and their pupils can share the benefits of cadet activities by setting up their own CCFs through the government-funded Cadet Expansion Programme launched in 2012.
In promoting a military ethos in schools, it aims to instil values in young people that will help them get the most out of their lives, and to contribute to their communities and country.
The CEP target was reached six months early in March 2015 but the government has since committed an extra £50 million from LIBOR fines to lift the total number of cadet units in schools across the UK to 500 by 2020.
For more information about the Cadet Expansion Programme in the South West of England – contact Les Tanner at Wessex RFCA on 01823 250109 or email wx-sceo@rfca.org.uk.
---