---
Army and Air Cadets in Honiton were lucky enough to meet HRH Princess Anne, who officially opened the new Joint Cadet facility in the town.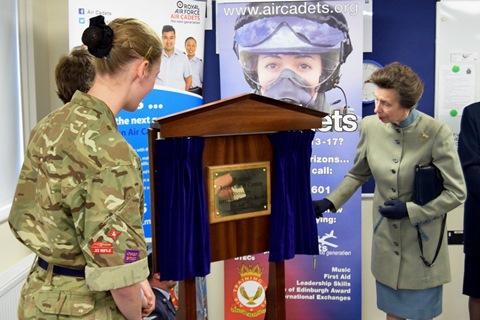 Before the opening ceremony, Princess Anne was given a tour of the facility and spoke to young people from both the Army and Air Cadet units, who would be sharing the new building.
The Cadets gave the Princess demonstrations on activities open to Cadets, such as first aid, weapons handling, fieldcraft training and flight simulator training.
The state-of-the-art, purpose built Cadet centre, which was project managed and delivered by Wessex Reserve Forces' and Cadets' Association (RFCA), replaces the previous buildings which were of poor quality and insufficient size.
The training centres for the Cadets were situated on different sites, and no longer fit for purpose. This new development allows the Cadet units to share the same site as well as the new opportunities it offers the young people.
The new facility includes an indoor rifle range, classrooms, stores and office facilities which provide the Cadets with the perfect base for the various adventure training and expedition activities they take part in.
The Cadet Forces offer young people the opportunity to have fun and make friends whilst carrying out adventurous and military based activities. Cadets have the opportunity to gain extra qualifications, as well as gain skills such as leadership, teamwork and self-reliance.
These incredible opportunities would not be available without the many adults, who give up their free time to support these young people and watch them develop.
If you are interested in joining the Army Cadets as a Cadet, or an Adult Volunteer, visit; armycadets.com. If you would like to join the Air Cadets as a Cadet or Adult Volunteer visit; atcdevsom.org.uk
---