---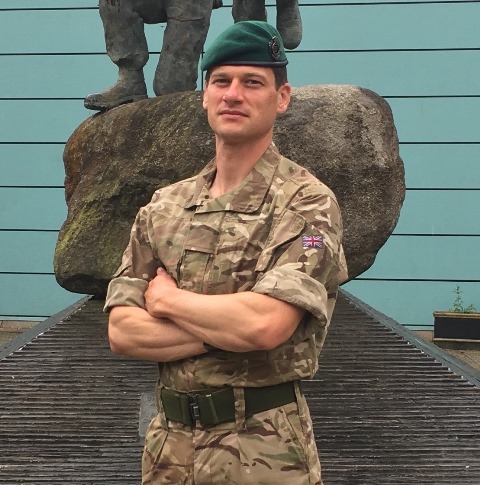 A 35-year-old Army Reservist and self-employed landscape gardener from Bath is celebrating the award of the world-famous Commando green beret.
Sapper Toby Huckle joined up five years ago, initially with the Royal Signals, but is now with Bath-based 302 Troop, 131 Commando Squadron Royal Engineers.
Winning the beret was the big challenge he set himself. And it was achieved after a hiccup during the gruelling final series of tests that every would-be Commando – whether a Regular soldier or Reservist – must complete.
The problem occurred at the start of final training, which involves a tough week on field exercise.
Toby needed treatment for a minor injury and, to avoid the risk of picking up an infection, was barred by Army medics from taking part in the six-mile endurance course.
This includes passing through tunnels, a wading pool and an underwater culvert and rounds off with a four-mile run home and marksmanship test.
He was fit enough to take on the rest of the tasks, however:
a nine-mile speed march inside 90 minutes carrying full fighting order
the 'Tarzan' assault course, ending in a rope climb up a 30ft near-vertical wall – in full kit
and, finally, a 30-mile yomp across Dartmoor carrying a weapon and 30lbs of kit.
But time was running out, so within hours of completing the 30-miler, Toby was back in action on the endurance course. And, to his great delight, he completed it successfully.
Toby says that he joined the Reserves to take up a new challenge and because of the variety of opportunities on offer. "I've learned a lot of new skills as well as improving my fitness and enjoying working in a team," he said.
He was one of several Reservists from 131 Commando Squadron to earn their green berets, including Sapper Antonio Comparetto, 36, also from 302 Troop in Bath.
The berets were presented by Brigadier Richard Spencer, Deputy Commandant General, Royal Marines, who said: "You have all just completed a remarkable achievement and join a very special organisation as qualified members of the Army Commandos – something no one can ever take from you."
131 Commando Squadron is the Reserve sub-unit of 24 Commando Regiment Royal Engineers, with headquarters at Kingsbury in north London and other detachments in Plymouth (300 Troop), and Birmingham (301 Troop).
The Squadron has deployed worldwide to provide combat engineer support to 3 Commando Brigade Royal Marines, and is one of the most travelled units in the Army Reserve.
Commando Engineers are trained in amphibious warfare, as well as how to operate in jungle, desert, mountains and extreme cold. As Sappers, they are trained in a wide variety of engineer skills, such as bridging, demolition, obstacle crossing, route denial, construction and infrastructure support.
---