---
The Royal Air Force was established 100 years ago, tempered by war and formed by a merger of the Royal Naval Air Service and the Royal Flying Corps. The RAF is the world's oldest independent air force.
The RAF projects Britain's air power as a force for good in a fast changing world. Its history is second to none and it has taken part in many historic events and operations.
The Battle of Britain which took place in 1940 is arguably the most important action in which the RAF took part. Together with its Commonwealth allies and pilots from many other nationalities, the RAF held the line, resisting overwhelming numbers and prevented the Nazi invasion of Great Britain.
On Sunday 16 September 2018, the Royal Air Force Association and the Air Training Corps will be commemorating the formation of the RAF and remembering those who paid the ultimate sacrifice during the Battle of Britain.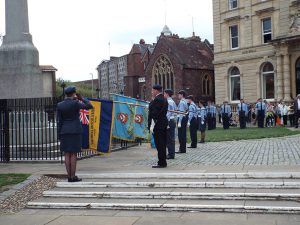 Following a church service at Southernhay United Reformed Church, standards and banners from the Royal Air Force Association, Royal British Legion, Air Training Corps and Air Scouts will be paraded through Exeter city centre at approximately 1545 hours.
Squadron Leader, David Rolfe, Wing Media Officer for Devon & Somerset Wing ATC said, "All are welcome to come and see the parade and I hope they can find the time to support the veterans, air cadets and air scouts who will be remembering the 'few'".
The Lord Lieutenant of Devon will be taking the salute as the parade passes the Guild Hall and a wreath laying ceremony will take place at the War Memorial on the Cathedral Green.
---