---
Personnel from 501 (County of Gloucestershire) Squadron (Sqn), representing RAF Brize Norton, paraded at Leighterton, Gloucestershire on 24 April 2016 to commemorate ANZAC Day, and to remember the 24 members of the Australian Flying Corps (AFC) who are buried in Leighterton cemetery.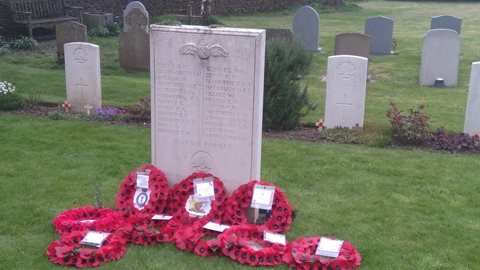 In WWI, Australia was the only British dominion to raise, equip and deploy in the field, its own flying corps.  Number 1 Squadron, Australian Flying Corps (AFC), served in Palestine and Numbers 2, 3 and 4 Squadrons AFC flew on the Western Front in France.
The AFC had four training squadrons based in Gloucestershire, No 5 and 6 Training Squadrons at Minchinhampton and No 7 and 8 were are Leighterton.  These four AFC's formed the 1st Training Wing AFC with its Headquaters and AFC hospital in Tetbury.  Flying training ceased on 15 March 1919 and the AFC departed from Southampton on board the P&O SS Kaiser-I-Hind on 6 May 1919 and arrived in Port Melbourne on 16 June 1919.
A commemorative service, organised by Gloucestershire county of  The Royal British Legion, takes place every year.  This year marked  the 101st  anniversary of ANZAC Day, and the wreath was laid on behalf of the Station Commander by Squadron Leader Andy Marshall of 501 Sqn.
In addition, in the weeks running up to the event 501 Squadron were invited to visit the school along with the The Royal British Legion Chair for Gloucestershire, Anny Reid (Group Captain Retd) and her team, to tell the story of  why we commemorate ANZAC Day and how The Royal British Legion and the military support each other throughout each and every year.
---