---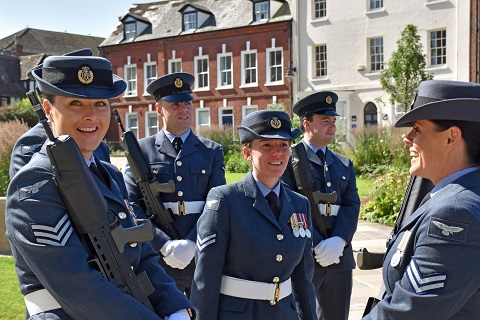 RAF Reservists of 501 (County of Gloucester) Squadron have marked the 90th anniversary of the Squadron by marching from Gloucester Cathedral to the Guildhall.
501 Squadron is currently based RAF Brize Norton in Oxfordshire, providing Reservist drivers and storage and distribution specialists as part of No 85 Expeditionary Logistics Wing.
Accompanied by No 614 (Lydney) Squadron Air Cadets band, the Reservists marched behind the Queen's colour standard of the Royal Auxiliary Air Force – one of only three in existence.
The salute was taken in front of the Guildhall by His Royal Highness The Duke of Gloucester KG GCVO; Edward Gillespie OBE, Her Majesty's Lord-Lieutenant for Gloucestershire; and Air Vice Marshall Lord Beaverbrook, Commandant General of the Royal Auxiliary Air Force.
Also present was Group Captain Gavin Hellard, Inspector of the Royal Auxiliary Air Force, who said: "The Squadron is incredibly proud of its links with the county because many of its members are from here. They're people in the local community.
"The squadron is based at RAF Brize Norton, just about an hour away from here, and is predominantly involved in the logistics trades – chefs, drivers, suppliers – with a key role in supporting Royal Air Force operations around the world."
From 2001 to 2013, 501 Squadron operated as a Force Protection Squadron and deployed to Iraq and Afghanistan.
However, much of its existence was spent as a Gloucestershire-based Squadron and it still recruits from the county.
501 Squadron was based at RAF Filton near Bristol when transferred from RAF Bomber Command to RAF Fighter Command in 1938.
It fought with distinction in the Battle of France and the Battle of Britain, winning seven battle honours flying Hurricane, Spitfire and Tempest fighter aircraft during World War 2.
For more information about opportunities with 501 Squadron RAF Reserves, go to https://www.raf.mod.uk/recruitment/contact or call 0345 606 9069.
---