---
A 22-year-old Army Reservist from Cirencester plans to set aside a career in farming to achieve his big ambition – becoming an officer in the Regular Army.
The family of Second Lieutenant Johnny Day, who serves with the Royal Wessex Yeomanry in Cirencester, have been farming on the nearby Badminton Estate for three generations.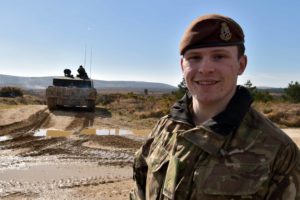 Johnny himself gained an agriculture degree at the Royal Agricultural University, Cirencester, after leaving Wycliffe School, Gloucester.
But the Army was always the big attraction – and something very much in his sights after he won an Army scholarship at the age of 16 and then joined the Cirencester-based C Squadron of The Royal Wessex Yeomanry.
"My time in the Reserves has been so valuable," he explained. "As a Trooper, I was able to learn so much about the basic skills required of any soldier and to meet so many interesting people from very different walks of life.
"Now, as a troop leader, I have an opportunity to help those who are starting out on their basic training."
The Royal Wessex Yeomanry's main role these days is to provide crew for the Army's Challenger 2 battle tank.
Johnny, as a qualified gunner, attended a live-firing exercise at Lulworth, where he was able to meet employers invited there as part of the national tri-service drive to build strong relationships with businesses and business
people.
For more information about The Royal Wessex Yeomanry go to https://www.army.mod.uk/who-we-are/corps-regiments-and-units/royal-armoured-corps/royal-wessex-yeomanry/ or call 01929 403774.
---