---
Yeovil's historic 103 year old Territorial Army drill hall has been transformed into a modern Army Reserve and Cadet centre, in a project overseen by Wessex Reserve Forces' and Cadets' Association (RFCA) in partnership with construction and infrastructure group Morgan Sindall.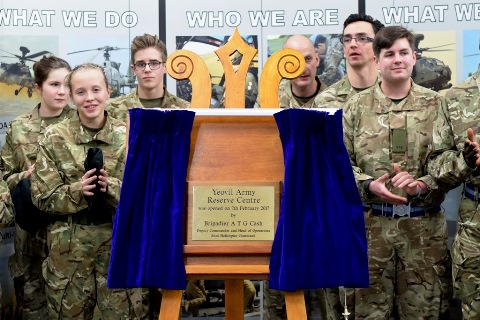 The centre, which was officially opened by Brigadier Andy Cash, the Deputy Commander and Head of Operations Joint Helicopter Command, will be shared by Reserves from a Flight (detachment) of 675 (RIFLES) Squadron, 6th Regiment, Army Air Corps, 105 Royal Electrical and Mechanical Engineers (REME) and a detachment of Army Cadets.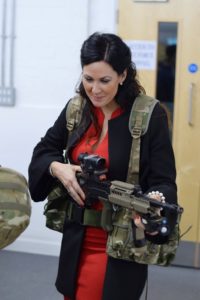 Members of the local business community were invited to the evening, and were given the opportunity to speak to Reserves and Cadets to find out more about what they do and the equipment they use.
The full refurbishment and fit-out at the historic centre has included an upgrade of building services, making the facility more energy-efficient and conforming to the latest regulations on sustainability. The new facility includes classrooms, a firing range, stores and office facilities, providing Cadets and Reserves the perfect place to carry out training.
Brigadier Steve Hodder, Chief Executive of Wessex RFCA, said: "We have refurbished a historic building for modern use.  When completed, there will be fantastic opportunities for men and women in South Somerset interested in fulfilling an exciting new role with the Army Air Corps Reserve.
"We also see it as a valuable local amenity, a venue available to be hired by other organisations when it is not being used by the Army Reserves."
A platoon of B (Somerset Light Infantry) Company, The Rifle Volunteers, were the last Reservists to occupy the centre before a reorganisation of the Reserves was announced in 2012.
The building dates back to the founding of the Territorial Force shortly before the First World War. It was officially opened on 8 November 1913 and included a 90-ft rifle range, officers' and NCOs' rooms and men's recreation rooms. 
The original ceremony was attended by military and local dignitaries, including the Mayor, Norman Buchanan. The Mayoress presented a flag to the local company of the 1/5th battalion of the Somerset Light Infantry.
To find out more about opportunities in the Reserves and Cadet in your area, visit www.wessex-rfca.org.uk.
---