---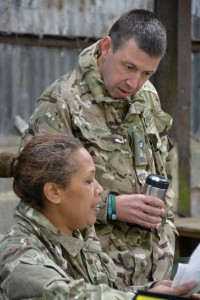 Army Reservists from 39th Signal Regiment in Bristol, Bath and Gloucester have spent five days on Salisbury Plain engaged in a major exercise to test their response to 'terrorist incidents' sparking off around the country.
The scenario also involved three other Royal Signals Reserve regiments and was the prelude to a wider Exercise, Flying Falcon 2015, with more than 1,000 Regular and Reserve soldiers in the Army's largest annual communications exercise,
39th Signal Regiment has its headquarters at Horfield in Bristol and also operates from Army Reserve Centres in Bath, Gloucester, Cardiff and Windsor.
It provides vital communications support and information management to the Armed Forces, emergency services and local government agencies in times of crisis – for example, flooding, natural disasters or terrorist attacks.
The commanding officer, Lieutenant Colonel Nick Bruce, explained the significance of their training exercise, called Exercise Horseshoe Resolve: "From a Reservist perspective this is the key opportunity to rehearse our primary role in the Reserve.
"Although we conduct training throughout the year, our Reservists aren't full-time, so this is the one opportunity we get to do that high level of collective training, and with four Reserve regiments out on the ground at the same time."
The scenario, part of a programme of exercises in response to the Charlie Hebdo shootings in France last January, envisaged a terrorist attack around York, followed by a further incident on the Severn Bridge. That immediately brought 39 Signal Regiment into the picture.
Lt-Col Bruce added: "I'm trying to ensure that my soldiers and officers experience the best kind of training scenario, whether that be on a radio detachment or working in headquarters.
"So they go through the analysis, come up with some courses of action and make a recommendation to me. We then take that course of action, with orders to prepare the detachments and deploy personnel into the field to deliver an effective response.
"This is the culmination of a year's training and our Reservists' opportunity to prove to 2 Signal Group and their commander that they are ready to respond in support of the UK operation, whatever that might be."
39 Signal Regiment currently has 260 Reservist officers and soldiers – both male and female.
"They are volunteers, all hugely committed," said Lt-Col Bruce. "And it's not just the two week deployment that we ask them to do nowadays. We've had a raft of soldiers this year who have had to undertake courses, often lasting for two weeks. So 70 is quite a reasonable number for this exercise."
As the Regulars of 11 Signal Group arrived for their Exercise Flying Falcon 2015, a fast-moving tactical scenario set in the fictitious country of Atropia, 39 Signal Regiment moved on to Penally camp in Pembrokeshire for a week of military and adventurous training.
Lt-Col Bruce said: "I think it's a sensible way of splitting up the two weeks. You first prove you can do your primary role. Then you enhance the military training before giving something back to the Reservists in terms of adventurous training opportunities and developing leadership and teamwork skills as well."
For more information about 39th Signal Regiment, call 01985 223735. To find out about wider opportunities in the Army Reserve visit
---