---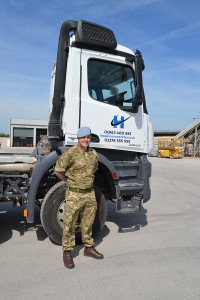 Army Reservist Ashley Robilliard from Somerset, swapped his work clothes for his military uniform when he headed to work on Wednesday (24th June) to celebrate Reserves Day (formerly Uniform to Work Day).
Ashley, a HGV Driver and Concrete Mixer with Hopkins Concrete Ltd, is also a Reservist with 675 (Rifles) Squadron Army Air Corps in his spare time.
Reserves Day is part of a week-long series of events culminating in Armed Forces Day on Saturday 27th June. These events are organised to recognise and celebrate the significant contribution that Reservists and the Armed Forces make to the nation's security, both at home and overseas.
Ashley, who joined B Company 6 Rifles 18 months ago, has been working for Somerset company Hopkins Concrete since November 2014. "I joined the Reserves because I wanted a challenge and to do something different, since being a Reserve I have gained skills such as confidence, teamwork, organisation and a determination to get things done, which I can apply to my day job."
Ashley said that his employer, Hopkins Concrete, had always been supportive of his Reservist activities, and gives him time off for training activities.
675 (The Rifles) Squadron Army Air Corps is based in Yeovil and Taunton, and is paired with Regular unit 1 Regiment Army Air Corps at Yeovilton. The Reserves assist their Regular counterparts with support for the Wildcat aircraft.
A package of financial and other support is available to all employers to help them accommodate absences and minimise the impact on their business. Additional financial help is available for SMEs, recognising the greater impact that absences can have on smaller companies.
For more information about 675 (The Rifles) Squadron Army Air Corps, call 01823 354570 or to find out about wider opportunities in the Army Reserve visit http://www.army.mod.uk/aviation/27836.aspx
Information on support for employers can be found at: http://www.sabre.mod.uk/Employers/The-Mobilisation-process/Financial-assistance
---