---
In September, Lisa McLaughlin, a logistics driver from 501 (County of Gloucester) Squadron (Sqn) Royal Auxiliary Air Force, was one of 22 Reservists who took part in the Regular Recruit Training Squadron – Graduation Parade which took place at RAF Halton.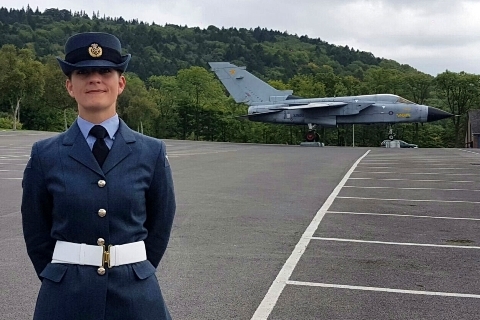 Every month, RAF Reservists complete a two week residential phase to complete their basic recruit training course and have a graduation parade reviewed by the Inspector of the Royal Auxiliary Air Force. However, twice a year RAF Reservists also join their Regular colleagues in a full ceremonial event, where they can parade in No1 Uniform, watched by their by their families.
Lisa McLaughlin is the first of the 501 Sqn personnel to take part in the Regular parade, which entailed four days of drill (including learning arms drill), and rehearsals to enable her and the other Reservists to parade with their Regular colleagues.
When she joined the Sqn in September 2015, Lisa was the top recruit of her basic recruit course, and is currently working towards her professional driving qualifications as a Reservist, combining her 501 Sqn training with her Civil Service role at Brize Norton, and her young family.
Lisa said about the experience; "The Regulars were friendly, welcoming and generous in helping us and accepting help, so we could all work together as one flight. This really made us feel like part of an already established and professional  team and proved that the RAF really is the agile, adaptable organisation it promises to be, striving towards the Whole Force concept successfully. I thoroughly enjoyed the experience and was extremely grateful for the opportunity to proudly show off in my No.1 uniform, in front of my proud family, especially my two young sons." 
Officer Commanding, Squadron Leader Andy Marshall, who attended the parade said, "It was a milestone day for 501 Sqn, and a proud day for me as the Commanding Officer to be present to witness LAC McLaughlin parade  with her Regular colleagues, some of which she could be operating alongside in the future.  An excellent example of how the Royal Air Force is working together as a Whole Force".
To find you how you could become a Reservist with the Royal Air Force, visit www.raf.mod.uk/recruitment
---