---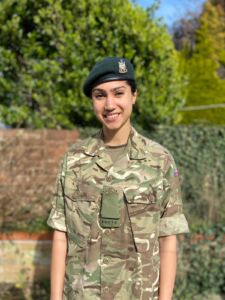 Officer Cadet Rheana Parmar from Exeter University Officers' Training Corps (OTC) has just passed her Army Officer Selection Board (AOSB) at Westbury and is off to Sandhurst in June to complete the Army Reserve Commissioning Course. 
Rheana is in her final year at Exeter University and is taking a Masters in Mechanical Engineering and plans to join 101 Battalion Royal Electrical and Mechanical Engineers (REME) based in Bristol.
Rheana commented:  'I have really enjoyed my time with Exeter UOTC including the completion of the leadership modules, making lots of great friends and experiencing 'a student's life less ordinary'.  This military training has really developed my teamwork and leadership skills as well as my confidence.
'The opportunities available through the OTC have encouraged me to constantly push myself to take on the physical and mental challenges of training. I am really looking forward to the Commissioning Course at Sandhurst and commissioning into REME as an Army Reserve Officer. I cannot wait to get involved in even more opportunities within the British Army, to experience new things and further improve my military knowledge.'
---