---
On 20TH August a commemoration event took place up at the National Arboretum, the mark the 75TH Annivesary of the Battle of Britain, and particularly the contribution of the fighter Squadrons (Sqns) of the Royal Auxiliary Air Force (RAuxAF), one of which was 501 (County of Gloucester) Sqn.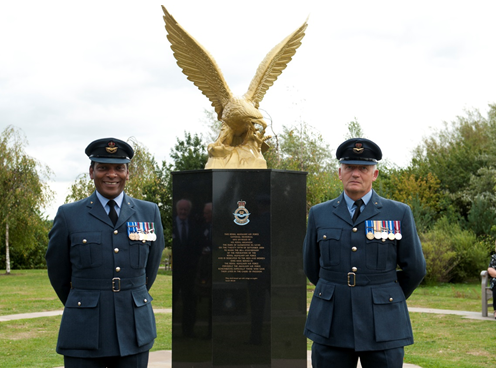 The contribution made by the 14 RAuxAF fighter squadrons during the Battle of Britain cannot be underestimated. During the course of the battle, which officially ran from July to November 1940, these 14 Squadrons were repsonsible for shooting down between a quarter to one third of all the enemy aircraft destroyed; a statistic that historians constantly debate to this day. They made a  contribution out of all proportion to their numbers, considering that the Royal Auxiliary Air Force Sqns made up only 23% of the total number of Sqns in Fighter Command.
The commemoration Service was conducted by the Reverend A. Gall, after which there was was a dedication of 18 new memorial stones (to pre-war RAuxAF pilots) befofe a reception lunch was held. 501 Sqn was represented by the Officer Commanding, Sqn Ldr Andy Marshall, and Association vice President, Wing Commander Rob Williams.
---