---
Another good day for the Reserve Forces Equitation teams and the Reserves.  The Reserve Forces' Association Equitation Committee (RFAEC) entered an Army Reserves team, as did the Royal Wessex Yeomanry (RWxY), for the Loriner's Combined Services Cup run at the Coxwell Rogers Military Chase on Sunday 26 October 2014 at Foxcote in the Cotswolds.  This involves four riders riding together as a team cross country over a demanding 30 fence course.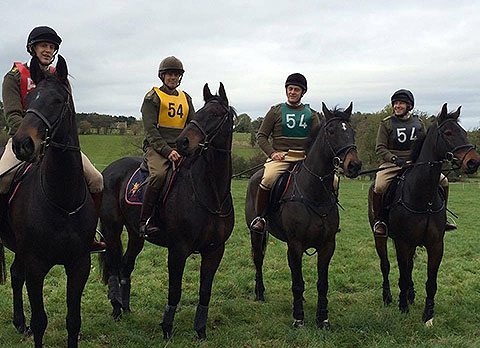 Four Service teams entered the competition:  King's Troop RHA, a Military Intelligence Corps team (of which two were Reserve riders from 3MI Bn and who are also members of the RFA squad), a RWxY team, and the RFA team which consisted of: OCdt Ellie Summers (WUOTC); 2Lt Emily Summers (RADC/WUOTC), OCdt Dan Petho (LUOTC) and Ensign Emily Cooper (FANY).  Riding hired hunters, this young team rode courageously together for the first time setting a cracking pace which enabled them to win the Loriner's Combined Service Cup.
RWxY came a close second, in a bravura performance where they all rode as a tight group in the best cavalry style. The team consisted of Major Alexander Bathurst (Secretary of the RFAEC who undertook the organisation and administration for both teams extremely well), Major Jonny Lea, Captain James Rawdon-Mogg and Captain Hugh Vere Nicholl (all RWxY).  We hope to see more of them at Forces equitation events.  Colonel Simon Goldstein Chairman RFAEC and Brigadier Alan Hills Chairman Combined Services Equitation were also present.
Overall this was an extremely good result for the Reserves and the RFAEC and good preparation for the International Uniformed Services Cup sponsored by the HAC/Kings Troop on 22 November 2014 at Woolwich and the Saumur Challenge Cup sponsored by the UK in 2015 at Melton Mowbray.
---