---
Air Cadets from Devon and Somerset Wing ATC had the honor of escorting the Webb Ellis trophy into Exeter on the fifth day of the Cup's tour around the United Kingdom.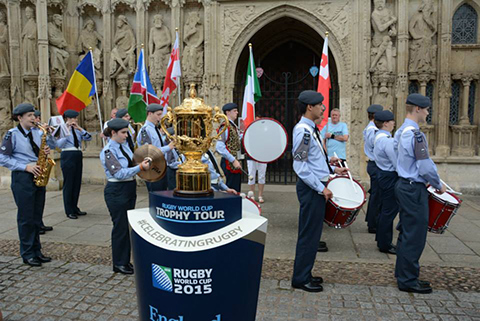 The Cup was escorted into Exeter City Centre by Cadets from the Devon and Somerset Wing Music Flight. The Cadets preceded the Cup on the march from Exeter Civic Centre to the Guildhall.
When they arrived, the Cadets and the cup were met by local dignitaries. The band then performed in front of crowds on Exeter Cathedral Green.
The tour to celebrate this year's Rugby World Cup started in Cornwall, and will work its way up to the north east and then down to London and the south east.
The 100 day tour of the UK and Ireland will culminate at Twickenham Stadium on 18 September, in time for the opening ceremony and the inaugural match of the tournament, England v Fiji.
---