---
Salisbury District Hospital has been presented the South West NHS Military Challenge trophy for the second year in a row.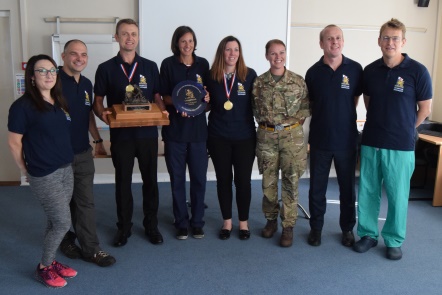 The team from the hospital took part in the challenge in June, competing against 15 other teams from NHS hospitals across the South West. The event was organised by Reserves from 243 Field Hospital, with support from Reserve units across the South West and Wessex Reserve Forces' and Cadets' Association (RFCA).
The event was held at Okehampton Camp on the edge of Dartmoor, and was attended by 160 volunteers. Participants arrived on the Friday evening and departed after the winning team was announced on the Sunday afternoon.
Over the course of the weekend, the volunteers took part in a number of physically and mentally challenging tasks, designed to give them a taste of what it take to be Reserve with the Army Medical Corps.
Salisbury District Hospital NHS Military Challenge team was made up from volunteers from across the hospital, including; Mark Street a Carpenter in Wessex Rehabilitation Centre; Jo Jones, Directorate Senior Nurse; Clare Charles, a Therapy Assistant; Ashleigh Careless, a Fitness Instructor; Chris Mulshaw, Head of Therapy Services; Simon Dennis an Ear, Nose and Throat Surgeon; and Laurence Arnold, Director of Corporate Development.
Clare Charles, a Therapy Assistant at the hospital, said about the challenge; "Nobody really knew what was involved, or what would be asked of you. The guys did an amazing job organising the event and keeping everyone busy."
Volunteers were faced with challenges which tested skills such as teamwork, self-reliance and leadership, as well as their medical knowledge. On one stand, teams were faced with amputee actors who played casualties in a simulated battlefield situation, which also included blank firing and smoke to help create a feeling of realism.
Jo Jones, Directorate Senior Nurse, said about the challenge; "What was nice is we are from completely different areas of the hospital. Some knew each other, some didn't. We are all so different and have such different roles. We were really able to pull on everybody's strengths."
Ashleigh Careless, said that the challenge gave her a been understanding of what being an Army Reserve entailed; "It was such a good experience, everyone just got on. It really helps you appreciate more what it is the Army do."
To find out more about joining the Army Reserves go to www.army.mod.uk/reserve.
---