---
A Silver Level Employer Recognition Scheme Award has been presented to China Fleet Country Club, in recognition of the support they give to members of the Reserves and Cadet Forces.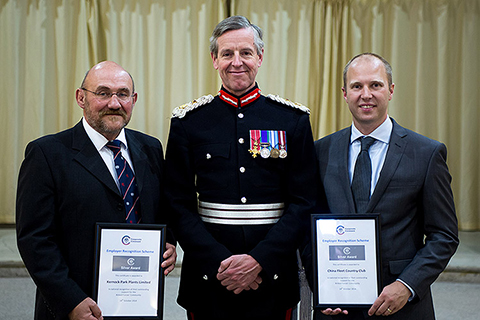 Dean Bennett, the General Manager of the resort in Saltash, was presented with the award at the Cornwall Lord Lieutenants Award Ceremony which took place in the Great Hall at Truro's Alverton Hotel.
Originally situated in Hong Kong, China Fleet Country Club has a colourful history, and was set up to benefit the serving ratings and other ranks in the Royal Navy and their immediate families. The current site outside Saltash opened in 1991, and is now a thriving resort.
The history of the resort has played a large role in its current support of Reserves and Cadets. "It makes sense for us, because China Fleet Country Club was built for Royal Navy and Royal Marine non-commissioned ranks".
The company was an early adopter of the Corporate Covenant, in which it has pledged its support to the employment of Veterans; the employment of Service spouses by offering flexible leave to deal with deployments; support for Reservist by being flexible to allow for training and deployment; the support of local Cadet Forces Units; participation in Armed Forces Day celebrations; and offering discounts to members of the Armed Forces Community.
China Fleet Country Club demonstrates their commitment to the Armed Forces through their own HR policies and actions, and currently employs one Reserve who is the resort Greenkeeper, as well as two Cadets.
The ceremonies saw another Saltash employer being recognised for their continuing support to Reserves. Mr Ron Duke, from Saltash based Kernock Park Plants, was also presented with the Silver Level Employer Recognitions Scheme Award by the Lord Lieutenant of Cornwall. Currently the company employ on Reservist from D Company 6 Rifles, who are based in Truro.
Kernock Park Plants have demonstrated their unstinting support to their Reservist by allowing additional leave in order to facilitate training commitments and releasing their employee for long periods of mobilisation, as part of Operation Herrick in Afghanistan.
---