---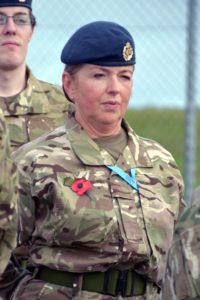 With the benefit of an early career as a food technologist devising new recipes and ideas for supermarket shelves, Aircraftswoman Samantha Grange is odds-on to be the first recruit to be fully trained as a chef with the South West's new RAF Reserves Squadron.
Sam, aged 49 with a daughter and son in their early 20s, has more recently spent 15 years as a civilian enquiry officer with the police and somehow still finds time to help her husband run the family farm near Truro.
She is one of a 13-strong cohort of recruits to the newly established 505 (Wessex) Squadron, based at RAF St Mawgan, near Truro.
RAF Reserves begin training
As the Squadron's very first intake, they have been undergoing Phase 1 training before going on to achieve trades-based skills in Phase 2. 505 Squadron provides support for other RAF units by supplying intelligence analysts, drivers, HR specialists and supplies and logistics personnel – chefs, who are much in demand across the RAF.
The Squadron is looking for self-motivated men or women aged 18-54, who must attain and maintain a certain standard of fitness, according to their age and gender. Reservists living up to 100 miles away can claim mileage expenses for attending training at RAF St Mawgan.
Sam follows in the footsteps of her father who had a distinguished 22-year career in the RAF, working as an engineer on Wessex helicopters and Andover aircraft of The Queen's Flight.
"As a child, I was brought up in a military environment and I aspired to joining the RAF myself but for various reasons I didn't. That has always been a regret so I was interested to learn that there was a new RAF Reserves Squadron, with a service support role, and only half an hour's drive away," said Sam.
"But I thought I'd be too old to join. I was really surprised to discover that I was still within the age range and that women were welcome too.
"It's an exciting opportunity to experience life in the military, with the same structure, discipline, benefits and with the opportunities to develop transferable skills. I am going on to train as a chef – and I have some experience there, so my aim is to be the first recruit in the Squadron to pass their Phase 2 training."
"My family, and my husband Andrew especially, have been really supportive," added Sam, whose daughter, Emily, is 23, and son Robert 21. "They know I can be away at weekends and there is the possibility of deployment and serving in detachments around the country in support of our Squadron."
505 Squadron opened in February 2016
Squadron Leader David Mann, Commanding Officer of 505 Squadron, said: "We opened our doors to prospective recruits in February, inviting those who were eligible to take an aptitude test. We then began to attest them in April and held our first training weekend in September, in preparation for Phase 1 training."
Phase 2 training will take place over two weeks at RAF Halton in Buckinghamshire and will include instruction in using a rifle and force protection, first aid and also chemical, biological, radiological and nuclear defence.
Squadron Leader Mann added: "Trade training is comprehensive and transferable into civilian employment. For instance, driver training involves off-road skills, camouflage and concealment, loading and restraints, route planning, self-recovery and basic maintenance.
"When fully trained, they will be qualified to drive articulated vehicles, buses, battlefield ambulances, cranes and airfield vehicles, such as fuel trucks, ice sweepers and aircraft tugs. All these skills and qualifications can enhance civilian employment opportunities."
505 Squadron restores the RAF Reserves' presence in the South West after a ten-year absence following the disbandment of 2625 (County of Cornwall) Squadron, Royal Auxiliary Air Force Regiment. It operated from RAF St Mawgan from 1982 to 2006.
---