---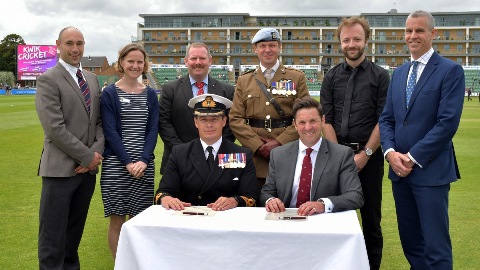 Somerset County Cricket Club has demonstrated their support to the Armed Forces Community by adopting the Armed Forces Covenant. They are now amongst more than 1,700 employers across the UK who have already pledged their support.
The Covenant was signed by Somerset County Cricket Club CEO Guy Lavender and Royal Navy representative Commander J M Punch MBE, during the clubs County Championship match against Yorkshire.
The Armed Forces Covenant is a promise from the nation, ensuring that those who serve or have served in the Armed Forces, and their families, are treated fairly. Businesses, from sole-trader to multinational, public bodies or charities who wish to support the Armed Forces community can sign the Covenant and publicly declare their commitments.
Wessex Regional Employer Engagement Director, Jon Beake, who has worked with the club to help them demonstrate their support, said "It's fantastic that Somerset County Cricket Club joins over 200 businesses across the South West that have pledged their support by adopting their own Armed Forces Covenants; it's been a pleasure tailoring the pledges to the club to make them relevant and mutually beneficial."
Somerset County Cricket Club's Armed Forces Covenant includes pledges to support local Cadets with match day volunteering schemes and providing tickets to Tickets for Troops.
To find out more about how your organisation could benefit from pledging support to the Armed Forces community contact the Regional Employer Engagement Director, Jon Beake on 01823 250110 or wx-reed@rfca.mod.uk. To find a list of all those who have already signed up to the Armed Forces Covenant visit www.armedforcescovenant.gov.uk.
---