---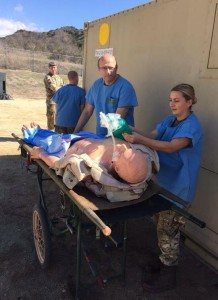 Highly-trained Army Reserve medics located around the South West with 243 (Wessex) Field Hospital are gearing up for another busy year honing their individual and teamworking skills and learning new ones.
Key events in 2016 include a 'Medical Stretch' exercise for employer representatives on Dartmoor in early June and an annual camp at York.
At the end of 2015, more than 100 members of the unit and its detachments spent two weeks with their American counterparts on Exercise INTEGRATED SERPENT at Camp Pendleton in Southern California.
It involved jointly building and running a Role 2 Field Hospital, housed in marquee-like tents and incorporating an ED (emergency department), ITU (intensive treatment unit), one ward and a laboratory.
Multiple inside liners allowed the tents to be durable in almost any weather, heated or air-conditioned as necessary. Using positive air pressure, they could also be secure against biological and chemical attack.
After 243 (Wessex) Field Hospital personnel erected the structures under the guidance of staff from the Naval Expeditionary Medical Training Institute at Camp Pendleton, they then simulated running their Role 2 facility in a fictional country in southern Africa.
Reservists took on their trained roles, from ward clerks to nurses and doctors, as scenarios tested the skills and drills of clinical staff assessing 'patients' for treatment. They faced a number of challenges, including coping with limited resources and the ethical dilemmas of setting up a hospital in a location where medical treatment was limited. NEMTI staff acted as casualties, adding realism to the training.
After the clinical training phase, Reservists squeezed into the minibuses to head off to the Grand Canyon and Mount Charleston for adventure training, ranging from horse riding and canoeing on the Colorado River to hiking in the 24-mile 'rim to rim' hike in the Grand Canyon.
To round off a successful annual camp, 243 (Wessex) Field Hospital met for a final parade at Pendleton Camp to commemorate the unit's history of the Croix de Guerre.
The commanding officer, Colonel Alastair Taylor awarded medals to personnel who had deployed and served for an extended period of time. The parade was also a formal farewell to NEMTI staff before departing for San Diego and some R&R, including a tour around the decommissioned aircraft carrier USS Midway and a ride along the California coast on hired Harley-Davidson motorcycles.
---