---
Personnel from South West based 165 Port & Maritime Regiment (165 P&M Regt), The Royal Logistic Corps welcomed guests, both military and civilian, to an official reception held at the Bodmin Detachment of 232 (Cornwall) Port Squadron, one of the Regiment's six Squadrons, on Wednesday 18 July 2018.
The Commanding Officer of 165 P&M Regt, Lieutenant Colonel (Lt Col) Craig Hampton-Stone, opened the evening with a welcome address to the guests, who included the Lord Lieutenant of Cornwall,
Colonel Edward Bolitho OBE and the High Sherriff Mr Paul Young-Jamieson Esq. Lt Col Hampton-Stone highlighted the role of the Regiment and the important relationship between the Military and the civilian community in the South West.
He also presented a bronze Defence Employer Recognition Scheme award to Mr Piers Thomson who accepted on behalf of the St Austell Brewery.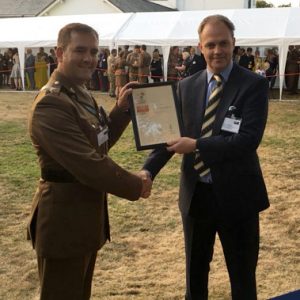 The event gave the opportunity for those attending to see the breadth of opportunities on offer to anyone looking for a life in the Army Reserve, as well as demonstrating the utility of some of the key equipment used by 165 Regiment in its operational role, namely a MEXEFlote powered raft and an all-terrain fork lift.
The evening's entertainment was provided by the Culdrose Military Wives Choir and concluded with a traditional military 'Sunset' ceremony played by musicians from The 6th Battalion The Rifles Band.
---