---
University Technical Colleges (UTC) in Plymouth and Bristol have opened Royal Navy Combined Cadet Force (CCF) units, as part of the Cadet Expansion Programme (CEP).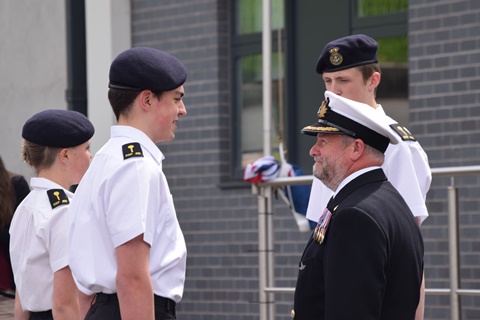 Despite only being opened in the last few months, both CCF units have already proved to be a huge success within the UTC's, with over 30 Cadets in Bristol and a similar number in Plymouth.
The principle aim of the CCF is to develop a range of skills and attributes among young people, including leadership, team work and confidence, whilst giving them a wider knowledge of the Naval Service.
Commodore Robert Fancy, based in Devonport Naval Base, inspected cadets from Plymouth UTC at a ceremony hosted by Polly Lovell, Principal of the College.  He said: "It is a huge privilege to open a brand new Royal Navy Cadet Force and especially so in Plymouth with the close ties with the Royal Navy.
"The cadet force will enrich the cadets' experience of education at UTC Plymouth. UTC will deliver an excellent education in science and engineering and the CCF will add to this, giving them challenges such as leadership and team-building underpinned by the Royal Navy's core values of commitment, courage, discipline, respect for others, integrity and loyalty.
"They will also get a chance to take part in many activities not normally available to other youngsters, such as kayaking and sailing.''
The two colleges join four others across the country which are affiliated with the Royal Navy.
The Cadet Expansion Programme was launched in June 2012 by the then Prime Minister and Deputy Prime Minister, with the aim of delivering 100 new Cadet units in English state-funded schools by September 2015.
The government is now committed to growing this total to 500 by 2020, and it has been announced that £50m raised from Libor fines has been allocated to this growth.
To find out more about the Cadet Expansion Programme in the South West visit http://combinedcadetforce.org.uk/ or contact Schools Cadet Expansion Officer Les Tanner on 01823 250109 or wx-sceo@rfca.mod.uk.
---