---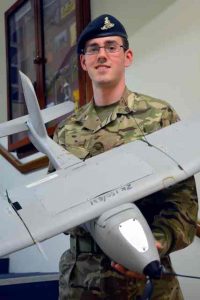 Gunner Matthew Cohu, a 19-year-old newcomer to the ranks of the Army Reserve in Bristol, has already set his sights on earning a Commando's Green Beret.
His ultimate ambition is to become a Regular Army officer, his target being a place on the Royal Military Academy Sandhurst in 2018.
Matthew has earned around £4,000 in pay on duty and bonuses in his first year with 266 Battery, based in Whiteladies Road.
The unit is part of 104 Regiment, Royal Artillery, and has a specialist reconnaissance role, equipped with a small, hand-launched, unmanned aircraft called the Desert Hawk 3.
As a second-year undergraduate studying for a degree in politics and international relations at UWE, Matthew might have been expected to join the Bristol University Officers Training Corps, which serves the three universities in the West of England.
"The OTC is probably really good fun," said Matthew. "But in the Reserves, there's a lot more you can get out of it in terms of soldiering.
"I was attracted to 266 Battery because it was an opportunity to do something completely different, being trained to use advanced surveillance equipment like the Desert Hawk 3. I want to leave university improved, not just with a degree but with a bit of military experience."
Matthew still has to pass his Phase 2 training next summer at Pirbright and, if successful, he will then undergo specialist training on the Desert Hawk 3 in California.
He added: "I will gain valuable experience, as I will have a greater understanding of the Army and seeing how leaders operate will improve my own leadership qualities.
"In the short term, I'm looking forward to getting stuck into all the great opportunities. The army will pay me to do adventurous training, like skiing and sailing, and I'm especially looking forward to beginning the Reserve Commando course which 266 Battery offers."
266 Battery is staging another Open Day at the Artillery Grounds in Whiteladies Road (opposite the BBC) on Tuesday, 18 October.
Meanwhile an earlier cohort of recruits is currently out in California training on the Desert Hawk 3. The mini-UAV does not carry weaponry but supplies video imagery, day and night, to ground troops.
For more details about 266 Battery and the Open Day on 18 October, call 0117 973 3801.
For general information about being an Army Reservist with 104 Regiment, Royal Artillery, visit http://www.army.mod.uk/artillery/regiments/24684.aspx or call 0345 600 8080.
---