---
On Wednesday 27th June, EDF Energy is proudly supporting Reserves Day in order to recognise the important role Reservists play in carrying out their day jobs and also in making a significant contribution to their country.  Reserves Day forms part of the build up to Armed Forces Day, which this year takes place on Saturday 30 June.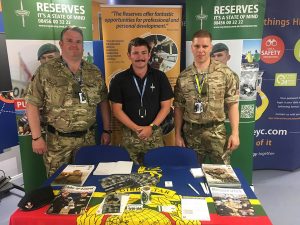 As part of this day, EDF Energy is providing the opportunity for its employees and those of its contract partners at Hinkley Point C to learn about the benefits of joining the Armed Forces Reserves. The all-day event on 27th June will demonstrate the personal benefits of becoming a Reservist, as well as highlighting the benefits to employers. Over 3,000 people currently work on the Hinkley Point C site and they will have the opportunity to meet serving Reservists who will be running pop-up stands and displays. This event will be internal for on-site colleagues and contractors.
EDF Energy is building two new nuclear reactors at Hinkley Point C in Somerset. It is the first in a new generation of nuclear power stations in the UK providing low-carbon electricity for around six million homes. EDF Energy is very supportive of the Armed Forces community and is proud to have signed the Armed Forces Covenant (AFC) in 2016.
On 1st July, EDF Energy will be running a Family Day at Hinkley Point B, its nuclear power station in Bridgwater, Somerset. The event will host the families of those working at either Hinkley Point A, which is being decommissioned, the operational Hinkley Point B or Hinkley Point C, which is under construction.
EDF Energy understands that the whole community has a role to play in supporting the UK's Armed Forces and so has arranged a number of military stands and displays. There will be cadets from the local area, and EDF Energy has organised the opportunity for young people to clamber over military vehicles and handle realistic weapons used by today's Armed Forces. EDF Energy is proud to support the local area's cadets and hopes that their interest will inspire adults to volunteer to become involved, and so develop their own teamwork and leadership skills. The event will be a fantastic day out for EDF Energy employees, their families, and members of the cadet and reservist communities.
---