---
A Swindon canoeing coach who has given outstanding service as a Petty Officer with the town's Sea Cadets is enjoying a special double celebration.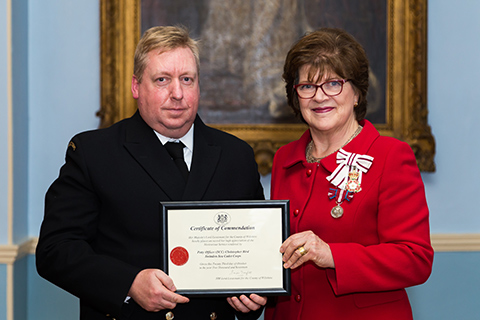 No sooner had Chris Bird received the Lord-Lieutenant of Wiltshire's Certificate for Meritorious Service than he learned of his appointment as the unit's new Commanding Officer.
Chris, 47, who works for a homeless hostel, is an accomplished canoeist and British Canoeing Union Level 3 coach. As such, he encourages his cadets to get out on the water as frequently as possible – "a good way of developing confidence and helping young people realise their full potential," he says.
He is also active in the Swindon and District Canoe Club and acts as an expedition supervisor for the Duke of Edinburgh's Award scheme.
Chris received his award from Her Majesty's Lord-Lieutenant, Sarah Troughton, during ceremonies at the Town Hall, Devizes. Others to receive Certificates for Meritorious Service were:
Retired Flt Lt RAFVR(T) Paul Widdicombe, of 68 (Westbury) Squadron, for his dedication to the Air Cadets in Wiltshire. Paul served with the RAF as an Air Loadmaster for over 20 years, as a uniformed volunteer for the Air Cadet Organisation for over a further 20 years and now continues this voluntary commitment as a civilian instructor.
Warrant Officer Frederick Cole, of Swindon Sea Cadet Corps. Ever since joining the Corps in Chippenham, he has supported the unit's marching band. As well as being an accomplished musician he has gained many instructor qualifications and held key roles at District level. His time is currently divided between unit, district, area and national levels, particularly in overseeing first aid and seamanship training.
Warrant Officer RAFAC Alan Smith, who has provided direction, guidance and council to staff and cadets of the Dorset and Wiltshire Wing ATC for over 31 years and as Wing Warrant Officer since 2011. He has given vast amounts of time to the ATC, attending summer camp every year, often volunteering for more than one week. He assists other Wings with their annual drill competitions and organises cadet attendance at public ceremonies. 
Sergeant Major Instructor Paul Collins, who became an adult volunteer at the end of his cadet service with Wiltshire Army Cadets in 1979. He soon found himself leading detachments at first Calne, and then Chippenham, and his flair for organisation and logistics he became Company Sergeant Major for both Wessex and Ferozeshah Companies, followed by 5 years as county Regimental Sergeant Major Instructor
Sergeant Major Instructor Ethel Giles, who joined Wiltshire Army Cadet Force in July 1989. She soon rose to Detachment Commander at Wilton and Downton and coached the County shooting team before joining the Tilshead Cadet Training Centre support team. She attended her first Annual Camp in 1990 and all 27 since and has earned two Clasps to the Cadet Medal.
---