---
Today marks 100 years since the end of the Battle of the Somme, a battle which will forever go down in history as one of the largest and bloodiest in human history.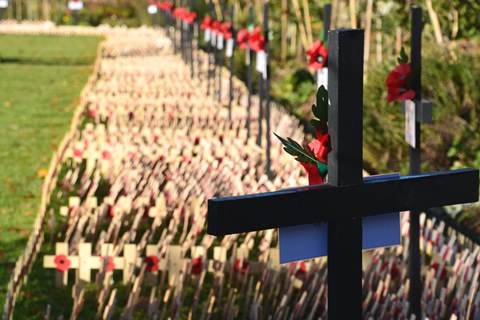 The Battle of the Somme lasted a total of 141 days, and cost over a million people their lives.
The first day of the Somme took place on a sunny July day in 1916 and was the worst single day in the history of the British Army, costing 19,240 lives and resulting in over 57,000 causalities.
The British Army that took part in the Somme was a mixture of the remains of the pre-war regular force, the Territorial Force and the Kitchener Army, composed of 'Pals' battalions made up of men who volunteered from the same communities.
Voluntary enlistment had been introduced in 1914, in order to expand the relatively small regular force. After war was declared, tens of thousands of men from communities across the country volunteered for Kitchener's 'New Army' battalions and the Territorial Force.
Kitchener's 'New Army' was raised from hundreds of towns and villages across the South West, including Exeter, Bristol, Taunton, Dorchester, Bodmin, Truro, Plymouth, Chippenham and Swindon. Men from these communities enlisted alongside their friends, workmates and family.
Once they had been formed, most Pals Battalions spent the rest of 1914 and 1915 training in Britain. The first major battle for many of these volunteers was the Somme, and for many it was the last.
The 9th Battalion of the Devon Regiment epitomises the fate of the Pals regiments. On the Somme the Regiment suffered 463 dead of the 775 men who went over the top. Over the course of the war, after nearly being wiped out at Loos, the Somme and Passchendaele, the regiment had to be reconstructed three times.
Back home the cost of the Somme to Pals Battalions was felt strongly. Half of the men of Monk's Road in Exeter never returned home. This was a picture which was replicated across the region, and the country, with many communities altered beyond all recognition.
Due to the way the Pals were recruited, many families suffered multiple losses, sometimes on the same day. Brothers Sidney, 22, and Thomas Copp, 32, from Bradninch near Exeter, died on the same day whilst serving with two different units: Sidney with 2nd Battalion and Thomas with 7th (Service) Battalion, the Devonshire Regiment. The brothers have no known graves and are commemorated on the Thiepval Memorial to the Missing.
---