---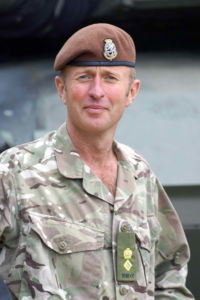 Army Reservists of The Royal Wessex Yeomanry have a new commanding officer as they reach full operating capability. As the UK's Armoured Reserve, the regiment supports the Regular Army by providing Challenger 2 tank crews.
Lieutenant Colonel Jules Speers, 47, was formerly a Regular officer who spent 10 years in The Blues and Royals, serving with the Household Cavalry in Windsor and Knightsbridge as well as on combat operations in Iraq and Afghanistan.
For the last ten years he has been a Reservist with the Royal Wessex Yeomanry, initially as Officer Commanding A (Dorset Yeomanry) Squadron and latterly as Second-in-Command of the Regiment. He has also been an instructor at the Defence Academy UK, Shrivenham, and on the tactics course at Warminster.
The Royal Wessex Yeomanry's main role is to provide crews for the Army's Challenger 2 battle tank, drawing on Army Reservists from five squadrons across the South West.
Lt-Col Speers said: "It's a great time to be taking over the Regiment. Our full operating capability requirement is to provide two Troops to the Army – equating to eight Challenger 2 crews.
"In this our FOC year we have exceeded the target by having 11 crews who are current and competent. And we can build on that. We have 35 crews who are qualified and could be trained for deployment within 90 days, but our main focus post-COVID will be on recruiting and getting each Squadron fully manned."
No sooner had he assumed command in March than the regiment had to prepare to mobilise a Squadron for the COVID-19 Support Force. Lt-Col Speers was among more than 90 Reservists who volunteered to deploy but they were eventually stood down.
As with many other Army Reserve units in the Wessex region, COVID restrictions have encouraged reservists to look for ingenious ways of maintaining skills and interest across the squadrons.
Lt-Col Speers explained: "We've got some innovative guys so there has been some good virtual training, covering such topics as tactical decision making, orienteering and media training. All training has had to be home-based on an iPad or laptop.
He added: "We're hoping to get on to the tanks at the end of June or early July, if not yet in formed crews of commander, gunner, loader/operator, driver. Maintaining the vehicles can be achieved in a socially-distanced environment but it has to be done with the right equipment and after a risk assessment. We have to be sure that all our soldiers are safe."
This is Lt Col Speers' second spell as a Reservist. After five years in the merchant navy as a deck officer with Shell tankers he joined The Queen's Own Yeomanry (Northumberland Hussars) while studying agriculture at Newcastle University. A Regular commission was the logical next step.
These days he splits his time between running a beef herd on organic grassland farm in Dorset and running an IT consultancy. He is married to Fig and they have three boys aged 9, 7 and 6.
The Royal Wessex Yeomanry has five squadrons across the South West, from Exeter to Swindon, Cirencester to Bovington and Salisbury as well. For more information about The Royal Wessex Yeomanry go to the regiment's page on Facebook.
---