---
It is estimated that there are 21 million volunteers in the UK, who give up their time on a regular basis to assist the community in a huge range of ways. This volunteer workforce is believed to contribute around £23.9bn to the UK economy each year.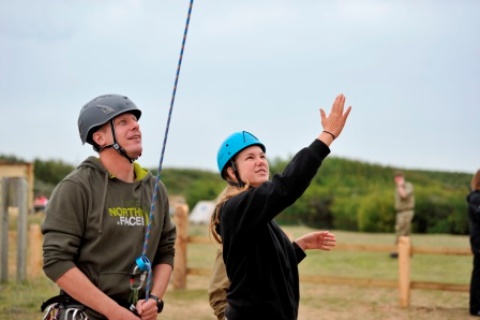 However it is difficult to put a price on the value and lasting benefits which volunteering offers. The impact that a volunteer can have goes far beyond the financial implications, and can often have far reaching impacts on other people's lives.
The Cadet Forces rely on an army of volunteers to allow them to run. Without people willing to give up their time on a regular basis, the activities and opportunities offered to young people through the Cadet Force would just not take place.
Being a Cadet offers young people a wide range of opportunities which might not be open to them at school. The most obvious benefits which young people get is the opportunity to take part in a wide range of exciting and challenging activities such as fieldcraft, flying, sailing, adventure training, sport, music and shooting as well as a number of professionally recognised qualifications.
A cadet survey in 2010 gave the following results:
9% said being in the cadets had been important in giving them experience of teamwork
7% said it had been important in giving them experience of leadership
91% said it had been important in providing direction and guidance
68% think it will help them get a job
91% agree that being in cadets makes them want to do well in life
90.8% say it has taught them to respect others
78.5% agree it has helped them stay out of trouble
71.1% agree it helps them get on better with their family
In short the over 20,000 Cadet Forces Adult Volunteers across the country have the power to change and influence young people's lives for the better. And of course there are huge benefits for the volunteer themselves.
Volunteering with the Cadet Forces can be a brilliant way of gaining new skills, developing existing knowledge and earning desirable qualifications. Volunteers have the opportunity to take part in all the activities available to Cadets, and can also attend extra training courses to gain additional qualifications in specialist areas, such as mountain leadership, sports leadership and leadership and management courses.
A recent survey of cadet force adult volunteers gave some interesting results:
99.7% said volunteering had improved their ability to help develop young people
98.8% said it had improved their ability to help others
91.9% said it was important in making them feel part of the community
86.7% said it helped them develop interpersonal skills
86% said it helped them develop organisational skills
84% feel it has given them better job prospects
So to all those who give their time to make amazing things happen in young people's lives – thank you. And to all those who want to make a difference but have yet to take the first step – join the fun and see what opportunities await.
To find out more about how you can add value to young people's lives in your area go to; http://www.sea-cadets.org/find-your-nearest-unit, https://armycadets.com/volunteer-with-us/ or http://www.raf.mod.uk/aircadets/findasquadron/.
---