---
Cadets at Thornbury Detachment were presented with badges and certificates on Thursday 19th July by the President of the Thornbury branch of the Royal British Legion.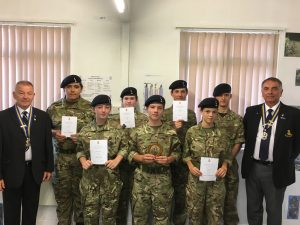 Lt Col (Retd) Richard Belbin, accompanied by the branch Chairman Mr Andrew Cooper were guests at the detachment following an invitation from Sgt Kevin Arnold. Sgt Arnold is a serving member of 266 (GVA) Battery Royal Artillery and by co-incidence both Mr Belbin and Mr Cooper are both former members, with Mr Belbin having been the BSM of 266 Bty during the period 1989-92.
The Thornbury cadets were presented with Army Proficiency star certificates at Basic & 1 Star level and were also awarded shooting badges for qualification shoots on the 5.5mt air rifle range.
Cdts Oliver Chandra and Tom Buckley received their 2nd class shooting badges, whilst Army Proficiency Certificates were awarded at 1* level to cadets Connor Dunham, Finlay Dunham, Sophie Harding and Niamh Walsh. Basic certificates were presented to cdts Chandra, Buckley and cdt Kiera Butler.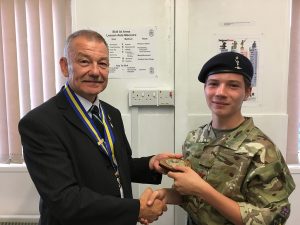 The highlight of the evening was the presentation of the hard fought 'Best Cadet' plaque. This was awarded to cdt Tom Buckley. This award is given periodically to a member of the detachment and considers weekly attendance on drill nights, participation at Company weekends and detachment events, progress through the syllabus, performance at the detachment and being a 'full member' of the ACF. In the period since October 2017 Cdt Buckley has attended 3 company weekends, passed his APC basic, completed a first aid course and been awarded his shooting badge. He will attend annual camp where it is hoped he will complete his APC 1 star. Well done Tom on your achievements.
---