---
A retired stable manager from Yeovil has been honoured for her years of dedicated work on behalf of the Army Cadet Force with the award of the Lord-Lieutenant of Somerset's Certificate for Meritorious Service.
The presentation to Captain Cynthia Bees took place during ceremonies at The Bishop's Palace, Wells.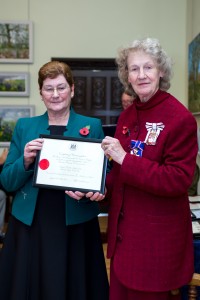 Cynthia's ACF links began in the late 1970s. "My son, Lee, was a cadet in the platoon at Clevedon and came home one day to say that the unit was looking for helpers," she explained. "It turned out that girls had just been admitted as cadets for the first time and they were looking for a chaperone – and it just went from there."
By 1980, Cynthia had become one of the county's first female instructors. Family moves meant that, in the years that followed, she assisted ACF units in Wales, the West Midlands and the Forest of Dean before returning to Clevedon in 2004 as Platoon Commander and county welfare officer.
During further moves she continued her ACF service in Gloucestershire and Dorset before moving to Yeovil and taking over as Commander of the local platoon; then, more recently, as Staff Officer with the Battalion training team.
She describes the ACF as "one big family – I still get great pleasure from seeing youngsters join us and gain so much from the unit's friendship, camaraderie and discipline as well as the whole variety of activities that are available to cadets."
The ceremonies included the appointment of young people as the Lord-Lieutenant's Cadets for the next year, a role which includes attendance at a number of official engagements. They were chosen on their merits within their respective Cadet forces, but also for their dedication and work within the local community. Representing the Yeovil area is:
Florin Fletcher, aged 16, Leading Cadet in Yeovil Royal Marines and Sea Cadet Unit.
---