---
A 55-year-old Truro man has been honoured for his many years of dedicated work on behalf of the Army Cadet Force with the award of HM Lord-Lieutenant of Cornwall's Certificate for Meritorious Service.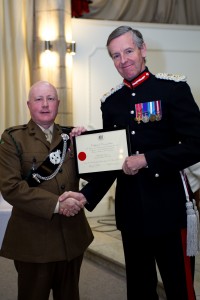 The presentation to Major Joe Summers, Commander of Cornwall's Gibraltar Company, which has eight detachments based from Falmouth across to a thriving unit on the Isles of Scilly, took place during ceremonies at Truro's Great Hall.
Major Summers, who lives in Stithians, is himself a former cadet who went on to serve as a Territorial Army (now Army Reserve) signaller before joining Cornwall ACF in 1990 and commanding units at Redruth, Helston and Truro. He is also national executive officer of the Dorset-based Cadet Forces Signals Training Team.
The cadet movement is in a healthy state in Cornwall, he says, with up to 150 youngsters attached to Gibraltar Company. "Traditionally, the ACF has often struggled to attract adult instructors, but we have reversed that trend more recently. And that makes each detachment a more buoyant place, which is then reflected in rising cadet numbers.
"One of the main reasons the ACF excels is that we offer opportunities that are not always available in schools – adventurous training, Ten Tors and, especially, participation in the Duke of Edinburgh's Award Scheme.
"The 1960s and 1970s ideas of giving youngsters a free rein to do what they like when they like doesn't work for everybody. In the ACF, we have discipline and the cadets wear uniform and do drill, first aid and weapon-handling skills. It makes them feel part of a team and they thrive on it."
The Lord-Lieutenant of Cornwall's Certificate for Meritorious Service was also awarded to:
Penryn's Mayor, Mrs Gillian Grant, who as chair of Training Ship Robert Hitchens Sea Cadets management team led efforts to raise more than £85,000 for refurbishment of the unit's headquarters.
The ceremonies included the appointment of young people as the Lord-Lieutenant's Cadets for the next year, a role which includes attendance at a number of official engagements. They were chosen on their merits within their respective Cadet forces, but also for their dedication and work within the local community. They include:
  – Hannah Green, aged 17, of Truro, a Petty Officer in the City of Truro Cadet Unit.
---