---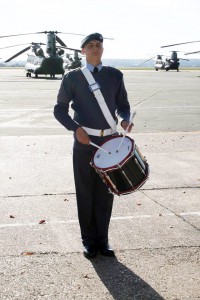 Air Cadet Corporal Dan Teasdale from 200 (Torquay) Squadron, has been announced as the very first Cadet of the Week by British Forces Broadcasting Service (BFBS).
Dan is the lead drummer of the Devon and Somerset Wing Band, and has also been part of the National Marching Band of the Air Cadet Organisation.
The Cadet of the Week competition is a new BFBS feature, and is open to all Cadet Forces. Cadets can be nominated by anyone who thinks they deserve to be recognised for going that bit further. BFBS have already had nominations made by friends, fellow Cadets and senior members of staff.
Dan was nominated by Nick Rosen, the South West Air Training Corps Region Music Coordinator. Nick said; "Dan is extremely generous with his time, passing on the excellent skills he has learned through the Air Cadets and his own studies, to the younger Cadets.
"His turnout is always exemplary, whether at rehearsal or competing at national level. He led the percussion section of the band to victory at the National Championships in November 2014, and came forth nationally as a solo drummer in the same competition."
All nominations made to BFBS are kept on file, and each winner is judged at the start of the week, ready to air on the Sunday Access All Areas show. The shows presenter, Aimee Dewitt, said that the new feature has already had a great response from across the Cadet community.
BFBS provides radio and television programmes to British Armed Forces communities based around the world. Access All Areas runs from 10am-1pm on a Sunday on DAB, online, on the app or Sky channel 0211, and goes out right around the Forces world.
---