---
The Salamanca Band & Bugles of 6 Rifles, an Army Reserve Band based at Exeter with a detachment at Truro, has been running a successful recruiting drive for new musicians.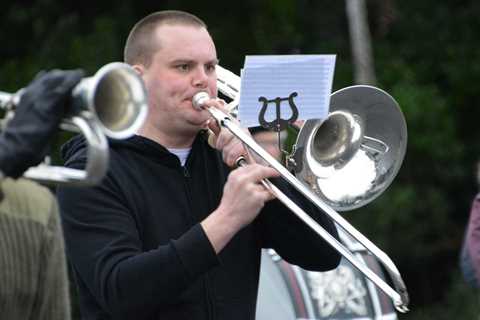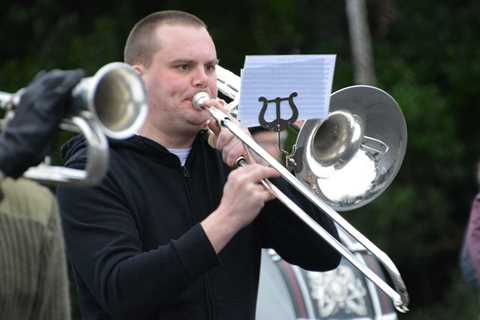 The band has already auditioned more than 20 new applicants this year, including trombonist Mike Hall, from Redruth, who is the first to join up.
Would-be recruits joined current Reservists in a weekend of auditions and rehearsals at Wyvern Barracks in Exeter. It included giving new applicants their first experience as members of a military marching band.
Mike, 31, said: "It was really useful to get an insight into what was involved and great to have the full band together. The atmosphere among the band members was good too.
"One of the things that attracted me was the flexibility around rehearsals," added Mike, who is director of a company specialising in electronic point-of-sale equipment for customers across Devon and Cornwall.
Mike, who started piano lessons aged 7 and progressed to the trombone while at Helston School, once planned to become a Royal Marines bandsman but a knee injury put paid to those ambitions.
"I didn't know there was an Army Reserve band until I read about it in my local paper. Because of my business, it's actually more convenient for me to attend training at Exeter on Tuesday nights."
Bandmaster WO1 Lee Clayson said: "Although we perform regularly as a concert band, we looking to boost our numbers to make it easier to fulfil our duties as a marching band, which requires a minimum of around 30 musicians at any one time.
"It was great to have so many of our musicians training together, including people from the Cornwall detachment. And with the new applicants, who hope to join us in uniform before too long, we were able to parade a full marching band."
The band travels all over the world and has played at the Albert Hall and Horse Guards Parade. They will be on tour to Georgia, Armenia and Azerbaijan in June and to Denmark the following month. There will also be a sailing expedition around the Channel Islands in July.
With a wide-ranging repertoire of military, classical, film and musicals, 'big band', rock and pop music, there are opportunities for people of Grade 5 standard, who can play woodwind, brass, percussion or bugle.
The band holds rehearsals at 1930-2130hrs on Tuesdays in Exeter or Wednesdays in Truro. Anyone interested should call 01392 492458 or visit the Band's Facebook page https://www.facebook.com/SalamancaBand/.
---