---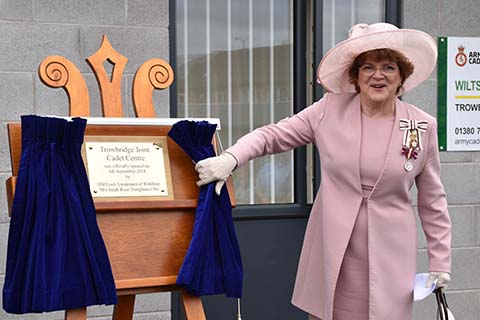 Proud Army and Air Cadets and their families have welcomed The Lord Lieutenant of Wiltshire and other dignitaries and guests from the civilian and military communities to the official opening of their newly rebuilt Joint Cadet Centre in Trowbridge.
The Trowbridge Detachment of Wiltshire Army Cadet Force (ACF) and 2196 (Trowbridge) Squadron, Air Training Corps (ATC), have only recently moved into the centre in Frome Road after an extensive, year-long rebuild, funded and commissioned by Wessex Reserve Forces' and Cadets' Association.
The new centre replaces an asbestos-riddled building with corroded metal structures and brickwork which was frost-damaged. It closed in 2016.
Now there is a modern training hall, with adjacent office, classrooms, toilets, servery and generous storage space, plus a separate building with five-lane firing range. It is hoped that Sea Cadets will also use the centre before long.
The Lord Lieutenant, Mrs Sarah Troughton StJ, joined by The High Sheriff of Wiltshire, Mrs Nicky Alberry DL, and the Mayor of Trowbridge, Councillor Dennis Drewett, inspected both contingents of cadets. Members of Wiltshire ACF Corps of Drums were also on parade and inspected by the Lord Lieutenant.
Then Colonel Mark Nash, Commandant of Wiltshire ACF, and Wing Commander Vanessa Toth, Officer Commanding the ATC in Dorset and Wiltshire, invited Mrs Troughton to perform the opening ceremony by unveiling a plaque.
Sarah Troughton also promoted two Trowbridge Army Cadets, 17-year-old Hannah Lagdon and Kieran Velvick, 15, to Lance Corporals. The Army Cadet Force Assistant Padre, Captain Jo Reid, was presented her commissioning scroll by the Lord Lieutenant.
Colonel Nash said the new Joint Cadet Centre was "a wonderful investment in the youth of Trowbridge and wider Wiltshire. It's clearly a superb facility."
He added: "This is not only significant for the cadets. It's particularly important for the adult volunteers who give up their free time that they are working in modern and fit-for-purpose facilities and inspired themselves to inspire the Cadets."
Wing Commander Toth said: "This makes a huge difference to our Cadets because it is a modern, up-to-date building which is perfect for them. The previous centre was cramped, dated, and didn't give Cadets that sense of pride when they turned up for parade night."
For information about Wiltshire Army Cadets call 01380 724114 or email wx-wil-ao@rfca.org.uk. To find out more about Air Cadets in Wiltshire, email ACO-WHQ-DorsetWilts-WEXO@mod.uk .
---