---
Two RAF Air Cadets from Plymouth have been given a taste of the high life when they joined one of the world's premier aerobatic display teams, the Red Arrows, on their trip to the Royal International Air Tattoo (RIAT).  This is just one of the events happening in 2016 to mark the 75th Anniversary of the Air Training Corps.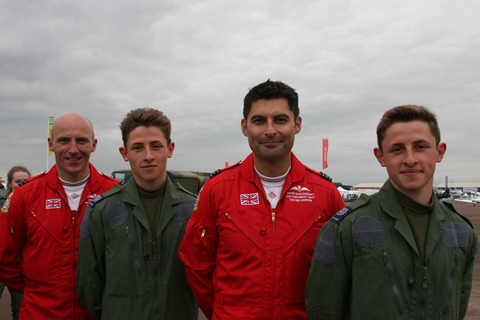 Cadet Warrant Officer Ben Southern and Cadet Warrant Officer Jake Southern from 197 (Devonport) Squadron were joined by seven other RAF air cadets on-board the Hawk T1 aircraft to sit in the rear seats for the team's 150-mile flight from RAF Scampton, Lincolnshire to RAF Fairford, Gloucestershire. 
This is only the second time in history that a group of cadets has flown with the Red Arrows, the nine were chosen having reached the shortlist for the Dacre Sword, the RAF Air Cadets annual award for the best male and female cadets.
The 30-minute flight, which did not involve any aerobatics, gave the cadets an opportunity to witness first-hand how the jets are handled as they flew up to 400 mph.
RAF Air Cadet Ambassador, Honorary Group Captain (GP Cpt) Carol Vorderman, was on the ground to greet the cadets and pilots as they flew in. "I wish I was a cadet," exclaimed Gp Cpt Vorderman as the Red Arrows and the air cadets landed. 
Jake flew in Red 1 with the Team Leader, Squadron Leader David Montenegro a former Combined Cadet Forces cadet and Ben flew in Red 6 with the Synchro Leader, Flight Lieutenant Steve Morris a former Air Cadet.
Wing Commander Francis Reis, Officer Commanding of Plymouth and Cornwall Wing said 'this once in a lifetime experience is in recognition of the dedication and commitment that these two young people have shown.  Both Ben and Jake are great role models for our younger cadets'.
Currently, Plymouth and Cornwall Wing consists of 23 units, 730 cadets and 190 volunteer staff.  One of the key messages in this 75th anniversary year is the need for more volunteers, in a wide variety of roles, across the country to keep these units open to continue to give young people amazing opportunities. If you are aged 20 or over and feel you can help inspire the next generation please contact the Wing Headquarters on 01637 857419 or visit www.raf.mod.uk/aircadets.  Previous military or aviation experience is not required.
---