---
In just two weeks, thousands of servicemen and women will be swapping their everyday work clothes for military uniforms, to celebrate Reserves Day.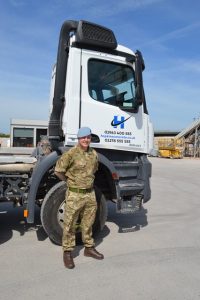 Reserves Day, which this year takes place on Thursday 8th September, was created in order to raise awareness of the valuable contribution made by spare-time personnel to the Armed Forces.
Across the country, Reservists, who make up around a third of the UK's Armed Forces, spend their spare time working alongside their Regular colleagues, whilst carrying full time job in their civilian life.
Reservist and chartered engineer Major General John Crackett, Assistant Chief of the Defence Staff (Reserves and Cadets), said:
"I encourage all my fellow reservists to wear their uniforms with pride on Reserves Day. A lot of people don't know much about the Reserves and perhaps you can help dispel some of the myths.
Time and again I have found that skills I have learned in the reserves have helped me succeed at work. My employer came to realise that my reserve service was good for me and good for the company too."
Reservists come from all walks of life, and often work full time, whilst also giving up their spare time to serve their country. They support operations around the world and are currently deployed in Bosnia, Herzegovina, Afghanistan, Northern Iraq and Cyprus.
Reserves Day helps to raise awareness of the contribution that Reservists make to the Armed Forces, whilst often also maintaining successful careers in their civilian jobs.
To support Reserves Day over social media, use the hashtags #ReservesDay and #SaluteOurForces. Follow all the action and share your messages and images with us on Twitter, Facebook and Instagram.
To find out more about how you can show your support to our Reserve Forces and the wider Armed Forces Community, visit; www.armedforcescovenant.gov.uk
---