---
Air Cadets and Army Cadets paraded through Wells to celebrate the renaming of their joint training centre in honour of Harry Patch – the "Last Fighting Tommy".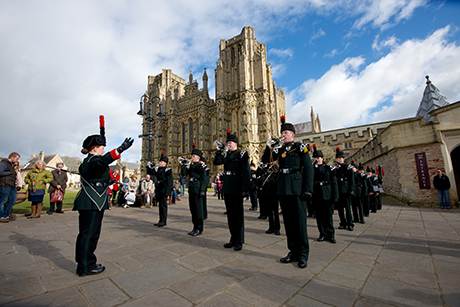 Harry, who died aged 111 in 2009, spent the final years of his remarkable life as a resident of the city.
"He would have been so proud to think he has been honoured in this way," said Flight Lieutenant Les Tanner, Commanding officer of 1955 Squadron (City of Wells) Air Training Corps.
"Harry cared passionately about young people and would have been delighted to see them coming together in such an excellent facility."
The re-naming ceremony of what is now The Harry Patch Joint Cadet Centre was performed by Lady Gass, Lord Lieutenant of Somerset, who unveiled a plaque. The parade, featuring the Somerset Army Cadet Force Bugles Band and the ATC Devon and Somerset Music Flight, began in Cathedral Green, where there is a memorial stone to Harry.
He was also a Freeman of the City, representing all the men who died in the "war to end all wars."
More than 50 cadets took part in the ceremony, typical of whom was Army Cadet Corporal Adam Smedley. The 17-year-old Wells Blue School pupil, from Chilcompton, was thrilled to learn he was born 100 years after Harry, who was born at Combe Down, Bath, in 1898.
"I joined the Cadets three and a half years ago and now aim for a Regular Army career," he said. "It has been a brilliant experience. Unlike a lot of routine youth activities, there is something different happening here to challenge us on every training night."
Colonel Paul Richardson, Somerset ACF Commandant, said it was important to maintain the Harry Patch legacy. "The joint cadet centre will be a memorial to him and therefore an inspiration to the young people who benefit from all that takes place within the building."
The Centre, in Webbs Close, was opened in 2012 by the Duke of Gloucester.
While the two cadet forces based there have many differing activities, the Commanding Officers – Flt Lt Tanner and Second Lieutenant Craig Angus, of the ATC – are keen to organise plenty of joint ventures.
On the cards in the near future is a trip to the Duke of Cornwall's Light Infantry Regimental Museum in Bodmin, where Harry's medals are displayed.
The UK cadet movement is one of the oldest and most successful voluntary youth organisations in the world, having celebrated its 150th anniversary in 2010.
In the South West, there are more than 8,500 cadets supported by 2,000 adult volunteers. For more information, go to the Wessex RFCA website, www.wessex-rfca.org.uk/cadets/
---