---
Army Cadet Jessica Shepherd, who came to the rescue of her injured elderly neighbour, has been presented with St John Ambulance First Aider of the Year by the Lord Lieutenant of Wiltshire at ceremonies in Devizes.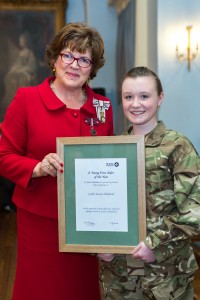 The 15-year-old Trowbridge Army Cadet was able to put her first aid skills into practice when helping 81-year-old neighbour Patricia Giles, who had fallen, when she found her on her walk home from school.
Jessica put to use the skills she had learnt as a Cadet, preventing other people moving the injured woman, asking for blankets, reassuring her patient and talking to the 999 operator.
She said: "I didn't tell anyone about what had happened at first, as I didn't want any fuss. One of my neighbours got in contact with the Army Cadet Officer and it spiralled from there.
"A paramedic told me that, had I not been there and prevented people from moving her, she could have been paralysed and it would have possibly killed her, but I was just doing what had to be done."
---