---
Wiltshire Army Cadets made a special presentation to the head teacher of Lavington School, Sarah Lowkis, at the official opening of the county's newest detachment. Nearly 50 cadets, many of them pupils, use the school's facilities for their Wednesday night training since the detachment was established last autumn.
Major General Sir John McColl KCB CBE DSO, Honorary Colonel of Wiltshire ACF, first congratulated the cadets on "a remarkable set of Army proficiency results" before acknowledging the support of ACF adult volunteers, parents and the local community, especially the school.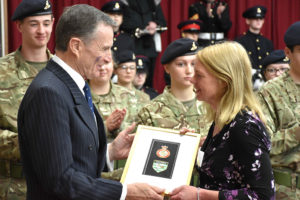 He said: "I'd like to thank the head teacher, Mrs Sarah Lowkis, and all the staff, who could not have been more helpful and generous." Mrs Lowkis said afterwards: "I have been delighted at how quickly it's taken off and how well our students have engaged with it – that's been the most striking thing. The Wiltshire Army Cadets team have been brilliant. All we've done really is to open up the school and welcomed the ACF into our community. I'm so proud of them all for what they have achieved in just a few months."
The Wiltshire ACF Corps of Drums Band provided a musical backdrop as Sir John inspected the cadets on parade along with Councillor Andy Geddes, Deputy Major of Devizes Town Council, and Major Rey Brown, Officer Commanding C (Arakan) Company of Wiltshire Army Cadet Force.
47 Regiment Royal Artillery, Lavington Detachment's sponsoring military unit, were present at the event.
Major General McColl also made presentations to two cadets, both pupils at Lavington School.
Cadet Thalia Reader was awarded a certificate for 'Most Advanced Musician' in the Wiltshire ACF Corps of Drums, while Cadet Joshua Little has recently been awarded the Potterne Parish Council Alan Mead Memorial Award for services to the village and youth of Potterne.
On parade nights, the cadets have use of the main hall and classrooms for instruction, including several with smart TV presentation boards. Under Staff Sergeant Instructor Shawn Scott, they receive instruction from as many as five adult volunteers across the full Army Cadets syllabus – fieldcraft, first aid, shooting, drill, skill-at-arms, 'cadet and the community' and physical education.
For more information about Wiltshire Army Cadets call 01380 724114 or email wx-wil-ao@rfca.org.uk .
---