---
A Wiltshire-based learning and organisation development consultancy has received a Gold award from Prince William, the Duke of Cambridge, recognising the firm's outstanding commitment as an employer of Reservists, ex-Regulars and other members of 'the military family'.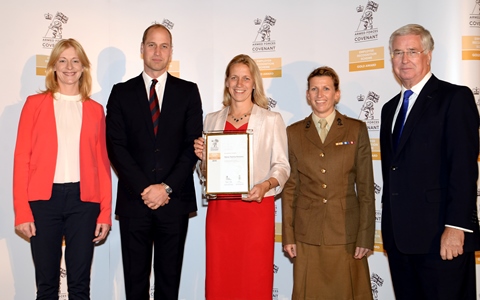 Waves Training Solutions Ltd, which has seven Reservists among a staff of 25, is headed by Managing Director Lou Whiting. The former Army Major was presented with the Defence Employer Recognition Scheme Gold Award during a ceremony at the Royal Chelsea Hospital.
She launched the business, based at Winterbourne Stoke, near Salisbury, just four years ago after 16 years' service in the Royal Artillery, where she specialised in learning development.
Lou said: "Apart from our new graduate placement, we're all connected to the military, being ex-Forces, serving Reservists, or spouses.
"Getting this award has been the icing on the cake. We still feel a sense of service to defence and that drives us to support them still. And to be recognised for that commitment is brilliant."
She added: "We didn't have to make a great deal of effort to demonstrate our commitment because that is simply what we do!"
As an example, the company employs an ex-Royal Artillery officer who was medically discharged with a back problem, which limits the amount of time she can sit at a desk. "We value her and appreciate the physical restrictions that she has," said Lou.
Reservists at Waves are also entitled to two weeks' additional leave to accommodate their training commitments.
Every year a team from Waves undertakes to raise funds for a military charity. This summer they completed a 100km walk around Salisbury Plain.
The proceeds will be shared between SSAFA, the armed forces charity and Our Wilton, a housing charity currently building a veterans' campus on the old Army HQ site in Wilton.
Turnover at Waves has risen year-on-year to £1.1 million. Most of this growth has been through working for military clients, but the company is now looking to take its organisational development expertise into the wider commercial market.
Lou said: "We are a mix of female and male and we don't wear dark grey suits! We offer flexible working, a good work-life balance and we accommodate those employees who have Reservist commitments.
"As a young consultancy we are developing our technology and therefore it is about our people and how we perform as a team. Our ethos, much like in the military, and everything that underpins that, is what makes us that bit different."
She added: "People are motivated if they are engaged with their work. That comes from the workplace itself, their leaders and their culture – and also the customer."
The Employer Recognition Scheme was launched to recognise those employers who support Defence People objectives and encourage others to do the same. 
---