---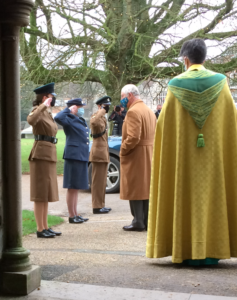 Lord Lieutenant's Cadets from Wiltshire had the opportunity to take part in a royal visit this week as Prince Charles and the Duchess of Cornwall visited Salisbury cathedral. The engagement was to mark the 800th anniversary of the founding of the cathedral.
The Cadets involved were;
Cadet Warrant Officer Charlotte Smith – RAF Air Cadet of 2189 Squadron (Calne).
Cadet Colour Serjeant Matt Hodgson – CCF Cadet of Warminster School (Warminster CCF).
Cadet Corporal Ellie Hendricks – ACF Cadet of Royal Wootton Bassett ACF Detachment – Wilts ACF.
The Lord Lieutenant of Wiltshire and her Officers said that the event "went extremely well and the attending cadets did us proud". All three cadets were exceptionally well turned out in their Service Dress.
The work involved in ensuring these cadets were able to support this high profile event should not be underestimated, given the current situation surrounding the global pandemic.
We owe a huge debt of gratitude to our Lord Lieutenant (Mrs Sarah Troughton) and her staff, all of whom knew that being involved in this event will have had a significant impact on the wellbeing and morale of our cadets (and their families), especially since one cadet lost a grandparent through Covid-19 and also had both parents contract the disease several weeks ago!
---