---
Bristol ACF's Yate Detachment are celebrating sporting success this summer, following outstanding performances from two of its cadets. 
LCpl Arno Turner, aged 16, has been chosen by the GB Target Sprint Team to represent Great Britain, and has now been part of the team for three months. 
Target Sprint regulated by the International Sports Shooting Federation (ISSF), is a sport for all, which combines running and target shooting, athleticism with skill and accuracy, where the first past the post wins. The course is short, usually 3x 400m, of which each running session is interspersed by shooting at knockdown targets.
A competitor cannot move on to the next stage until all 5 targets are put down, so the quicker they go down the more time is saved.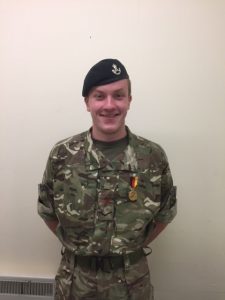 LCpl Turner has competed in Italy, Holland (where he set an unofficial British record) and Suhl in Germany where he came 4th.  He is going to South Korea in September representing Britain in the World Championships and will also be competing at the end of tour event in Yate in October, (the headquarters of the ISSF is in Yate).
Arno, from Chipping Sodbury, has been at the Yate Cadet detachment for 6 years and is currently undertaking his A levels at Cotswold edge 6th form.  Following his A-Levels he is hoping to go to Bath University to study sports performance.
LCpl Turner is pictured wearing his medal from the competition at Suhl.
Cadet Cpl Thomas Warburton, aged 15, has also had an excellent summer.  The black belt in the discipline of Tae Kwon Do has competed in a number of events with some outstanding results:
Competed in the British open where he became overall junior black belt (boy).
Competed in the Puma International Tae Kwon Do championship where he took Gold.
Competed in the Hungarian Kick Boxing World cup where he took 3rd place in the 79 Kg weight group.
Competed in the Epic Open where he took gold in the 80 Kg weight.
Competed in the Holland Cup in Holland 2018, where took Gold in the 75Kg weight group.
Competed in the Puma fight night 2018 where he took Silver.
This follows on from a successful 2017 when he competed in the Holland Cup becoming junior overall sparing champion.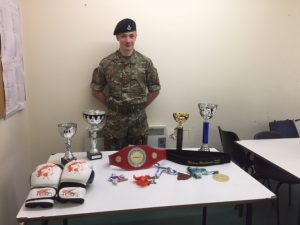 Tae Kwon do is a Korean martial Art characterised by its emphasis on head-height kicks, jumping and spinning kicks, and fast kicking techniques. He practices Tae Kwon Do at club Puma in Yate. He also practices the discipline of Kickboxing.
Thomas attends Catherine Lady Barclay school where he is studying for his GCSE's and his long-term goal is to complete professionally or to open a Gym
Cpl Warburton is pictured with some of his many trophies.
The Yate detachment is run by SMI Esther Scull, meets on Wednesdays at the Cadet Centre, Armstrong Way, Great Western Business Park, BS37 5NG. The detachment is going from strength to strength and welcomes new members.
---