---
Yeovil's 103-year-old Territorial Army drill hall is being transformed into a modern Army Reserve Centre with an investment of well in excess of half a million pounds.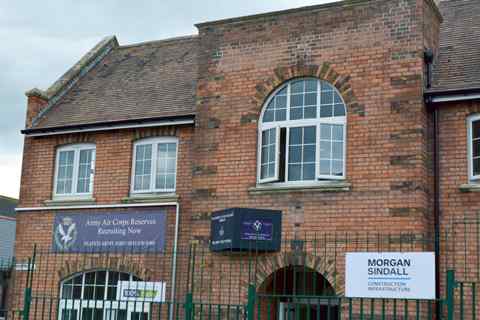 It will bring it up to the standard of other military training facilities in the South West.
Once reconfigured and refurbished, the building at Southville will be home to a Flight (detachment) of 675 (RIFLES) Squadron, 6th Regiment, Army Air Corps. They are likely to move in later this year, having been training temporarily at Royal Naval Air Station Yeovilton since being established in 2014.
675 Squadron, whose headquarters is at Bishops Hull, Taunton, is the only Reserve unit dedicated to providing ground support for the Army's fleet of attack helicopters.
Major Jonny Webber, Officer Commanding 675 Squadron, said: "The re-opening of Yeovil Army Reserve Centre will be a significant milestone in the Squadron's development.
"The Flight being established there will be the second of two Ground Support Flights to be added to the Communications Flight and the Squadron HQ in Taunton.
"There are opportunities for both men and women, offering technical and physical challenges in a wide range of areas. We have doubled our numbers to around 70 Reservists since the re-role and look forward to growing further still when we open the doors of Yeovil ARC again."
The full refurbishment and fit-out at Southville will include an upgrade of building services, making the building more energy-efficient and conforming to the latest regulations on sustainability.
Wessex Reserve Forces' and Cadets' Association (RFCA), which is responsible for managing and maintaining the Reserve and Cadet estate portfolio in the South West, will be overseeing the works.
Brigadier Steve Hodder, Chief Executive of Wessex RFCA, said: "We are refurbishing an historic building for modern use.  When completed, there will be fantastic opportunities for men and women in South Somerset interested in fulfilling an exciting new role with the Army Air Corps Reserve.
"We also see it as a valuable local amenity, a venue available to be hired by other organisations when it is not being used by the Army Reserves."
A platoon of B (Somerset Light Infantry) Company, The Rifle Volunteers, were the last Reservists to occupy the TA centre before a reorganisation of the Reserves announced in 2012.
The building dates back to the founding of the Territorial Force shortly before the First World War. It was officially opened on 8 November 1913 and included a 90-ft rifle range, officers' and NCOs' rooms and men's recreation rooms.   The ceremony was attended by military and local dignitaries, including the Mayor, Norman Buchanan.  The Mayoress presented a flag to the local company of the 1/5th battalion of the Somerset Light Infantry.
---