---
Airtrooper Megan Dobson's feet have hardly touched the ground since she joined the Army Reserve in Somerset nearly two years ago.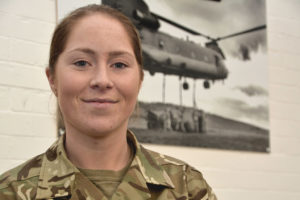 The 20-year-old Airtrooper, from Queen Camel, near Sparkford, is a member of 675 Squadron, 6 Regiment Army Air Corps, training with B Flight detachment at Yeovil's newly refurbished Army Reserve Centre.
She has been on courses linked to the Squadron's role in providing ground support to the new Wildcat combat helicopters of 1 Regiment Army Air Corps (1AAC) based at RNAS Yeovilton, and on exercises with 1AAC, their paired Regular regiment, in Scotland and Northumberland.
Megan has already completed her first parachute jump as well as ski-ing in Austria and diving in Egypt. And recently, she made her debut for the Royal Engineers' women's soccer team.
She manages all this while taking a degree course in uniformed public service at Weston-super-Mare College of Further and Higher Education.
Megan's ambition is to become a Regular Army officer. "I could have started by joining the University Officer Training Corps but preferred the Army Reserve route so that I could view everything from a soldier's point of view," she explained.
"It's gone really well – two years have flown by very quickly. And the Army Reserve have been so helpful and encouraging, ensuring I still have sufficient time to finish my degree without too much pressure."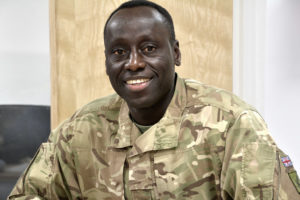 Lance-Corporal Sheikh Njie, a 42-year-old landing point commander, is a former national squad athlete in the Republic of the Gambia. 'Steve' as he's known to his Army mates, settled in the UK in 2005 and is now an athletics coach at Millfield School
Married with two children and living in Street, he joined the Reserves in 2011, proud to follow in the footsteps of his grandfather, who fought for the British Army in Burma during the Second World War.
Steve's career in the Army Reserve has taken him to many parts of the world, including on exercise in Arizona, where he won an award as the best ground crew. "Being a Reservist requires great determination, a lot of hard work and absolute commitment," he says.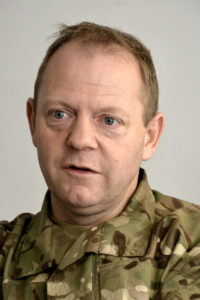 Lance-Corporal, Stuart Romain, is another who is proud of his family's Army history, which dates back to the Crimean War in the 1850s.
Yet the 45-year-old car salesman, who came close to signing on for the Royal Marines when he was 17, waited another 25 years before joining the Army Reserve.
"I wanted to do my bit for the country and perhaps boost my own personal development. Since then, I've had a great time, taking on so many things I could never have done before, including trips to France, Germany, Austria and Cyprus."
B Flight moved into the refurbished Yeovil Army Reserve Centre only last January but recruiting performance has been strong, as the detachment commander, Captain Craig Hallas MBE, explained.
"We have 10 attending regularly, plus a senior NCO, and we have a dozen or more in the recruiting pipeline – a very good effort in the short time we've been open here. We're aiming for a total establishment of 33 solders, plus NCO.
"We've had a few transfer from other Army Reserve units too. The great attraction is working in and around helicopters. Once you're trained to Class 1 and on aircraft type-specific courses, you're cleared to work under aircraft unsupervised."
Other aircraft they can train to work with include the Army's twin-rotor Chinook workhorse and the multi-role Merlin of the Commando Helicopter Force, also based at nearby RNAS Yeovilton.
Capt Hallas MBE added: "If Reservists here are regular attenders, they'll find the Squadron is regularly asked work on aircraft on a Tuesday night. It can be a short a notice – as little as 48 hours – to be called on for lift drills and underslung loads."
We train with the aircrew, rigging vehicles under a Chinook or a Merlin. The aircrew fly them around and come back for derigging."
For more information about opportunities with 675 Squadron, 6AAC, call 01823 354570 or search for @675SqnAAC on Facebook.
---