---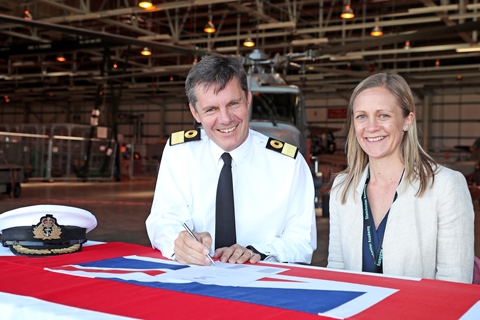 The Armed Forces Covenant is a commitment between the state and those serving in the Armed Forces and their families. 
Over 200 businesses across the South West have committed to signing the covenant to demonstrate their commitment to support families who serve the Armed Forces, and to recognise and value the contribution serving personnel and their families make to our country.
As the secondary school with the highest proportion of children from service families in Somerset, Stanchester Academy is incredibly proud of its commitment to ensure our service families have the greatest level of support possible through their education.
In May the new Principal, Amy Joynes, jointly signed the Armed Forces Covenant with Commodore Tindal from RNAS Yeovilton. Mrs Joynes invited some of the Academy's children and families of serving Armed Forces personnel, as well as staff members from Armed Forces families to join her at the signing where RNAS Yeovilton hosted a morning amongst the RNAS Historic Flight.
Students enjoyed the opportunity to spend time with their parents at work, learn about the Historic Flight and even board a Wildcat HMA Mk2 and the Sea Fury.  
Mrs Joynes commented "Supporting our forces families is something that is very close to my heart and I look forward to a long and successful relationship with both Yeovilton and our families who are based there.  Over the coming term our families will be helping us develop our Academy plan for service families, thus ensuring we are meeting their needs as they see them."
Wessex RFCA Regional Employer Engagement Director Rachael Brannagan said; "It's fantastic that Stanchester Academy joins over 200 businesses across the South West that have pledged their support by adopting their own Armed Forces Covenants; it has been a pleasure tailoring the pledges to the Academy to make sure they are relevant and mutually beneficial."
Stanchester Academy's Armed Forces Covenant includes pledges to support families during and following deployment and to support local Cadet units.
To find out more about how your organisation could benefit from pledging support to the Armed Forces community contact the Regional Employer Engagement Director, Rachael Brannagan on 01823 250118 or wx-reed2@rfca.mod.uk. To find a list of all those who have already signed up to the Armed Forces Covenant visit www.armedforcescovenant.gov.uk.
---