---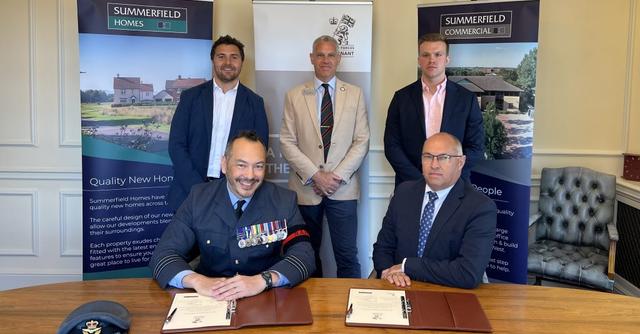 Summerfield Developments (SW) Ltd. has become the latest South West business to sign the Armed Forces Covenant on the eve of the annual Reserves Day, the 23 June, as part of its wider commitment to support colleagues and its community. 
The Covenant is a promise that ensures all who serve, or have served, in the Armed Forces are treated fairly. Businesses and organisations of any size or sector can pledge their support for veterans, reservists, cadets and the wider Armed Forces community. 
James Holyday, Managing Director of Summerfield Developments (SW) Ltd said: "As a business we are proud that one of our colleagues is an armed forces reservist and another has previously served in the armed forces. It made perfect sense to formally acknowledge the value the services bring to the country and society by signing the Armed Forces Covenant.

"Our commitments as property development company are wide ranging, which aim to shine a light on the importance and respect to all those who serve and have served in the forces. The benefits of employing those from a military background with their skills should not be under estimated." 
Jon Beake, Regional Employment Engagement Director for the Wessex Reserve Forces' and Cadets' Association commented: "Summerfield has a rich history of supporting the community and I am delighted that this support has extended to the Armed Forces.

"Their engagement throughout has been first class, identifying valued and tangible commitments that Summerfield can deliver over the coming months and years. I would encourage all business to get in contact, emulating Summerfield in publicly championing the value of the Armed Forces and their families."   
Pictured front left to right: Wing Commander Alex Drake & James Holyday Managing Director of Summerfield Developments (SW) Ltd
Pictured back Left to right: Ed Khodabandehloo Managing Director of Summerfield Homes, Jon Beake Employment Engagement Director, Chris Holyday in the Army Reserves and Property & Development Surveyor for Summerfield Commercial.
---