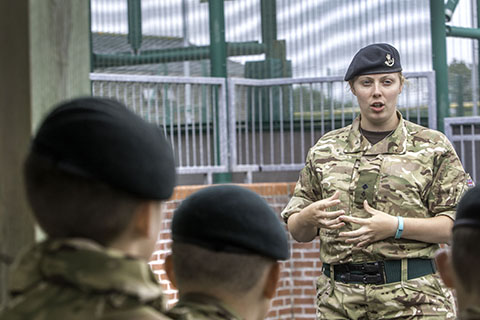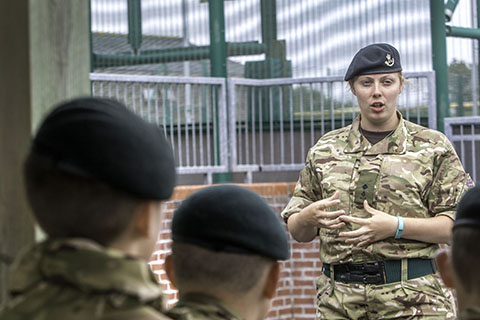 Without Adult Volunteers, the Cadet Forces couldn't succeed
---
Becoming a Cadet Force Adult Volunteer is a great opportunity to be part of a prestigious and popular youth organisation, which takes great pride in offering youngsters opportunities that may not otherwise be available to them.
The Cadet Forces are highly dependent on their Adult Volunteers who dedicate their time to motivating, training and inspiring their Cadets.
In turn, Adult Volunteers reap rewards such as professional training, personal development, an enhanced CV and a great sense of personal achievement. Enthusiasm and aptitude are the hallmarks of all Adult Instructors, who are all committed to offering Cadets whole-hearted support and encouragement.
All Adult Instructors have the opportunity to acquire a number of qualifications during their time working with Cadets; these include First Aid, Duke of Edinburgh's Awards, BTEC diplomas, ILM awards and C&G graduate level qualifications.
Adult Volunteers fall into three categories: Officers, who focus more on supervision and leadership in their role but also deliver training; Adult Instructors (AIs), who directly train the Cadets; and Civilian Assistants (CAs), who assist the Officers & Instructors at local level (all Instructors start at this stage but some may wish to continue in this role).
Adult Volunteers do not have to have a military background and tend to come from all walks of life; in fact it's imperative that the Cadet Force take on people with a good balance of life experiences, not just Military, in our Volunteer population in order to better help develop the Cadets.
Applicants must be over 18 and have a sense of fun and enthusiasm.
Applicants will need to pass a DBS check (previously CRB check) to be accepted, as per the Ministry of Defence Cadet Forces Safeguarding Framework. 
To find out more please download the Job Description at the top of this page or contact:
Sea Cadets (South West Region) – T: 0117 305 1969 or visit Apply – Sea Cadets (sea-cadets.org)
Army Cadets (Bristol) – T: 0117 986 3344
Army Cadets (Cornwall) – T: 01208 73183
Army Cadets (Devon) – T: 01392 256251
Army Cadets (Dorset) – T: 01305 263954
Army Cadets (Gloucestershire) – T: 01242 700063
Army Cadets (Somerset) – T: 01823 284486
Army Cadets (Wiltshire) – T: 01380 724114
Air Cadets (South West Region) – W: https://www.raf.mod.uk/aircadets/find-a-squadron/
For more information on the Cadet Forces click the links below: