---
RNLI signs the Armed Forces Covenant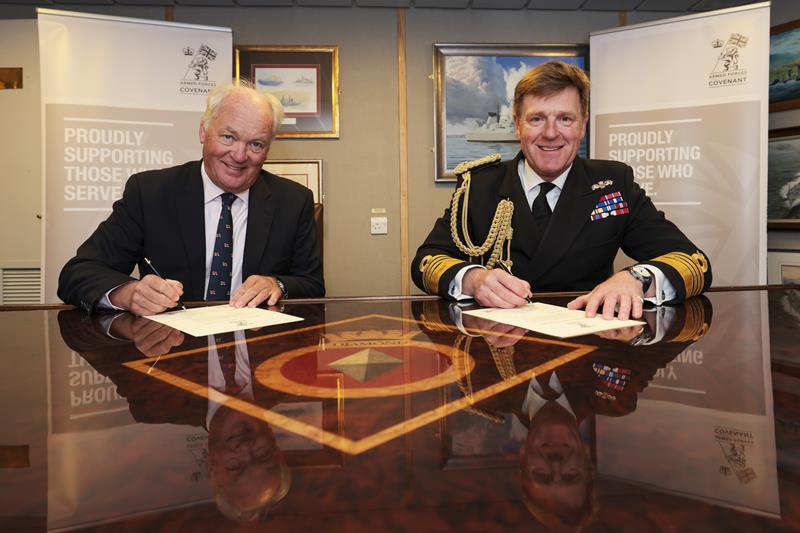 Mark Dowie joined First Sealord and Chief of Naval Staff, Admiral Sir Ben Key KCB CBE ADC, onboard the ship in London to sign the covenant, underlining the RNLI's commitment to building an inclusive organisation for people of all backgrounds, abilities, cultures, and experiences.
The covenant focuses on ensuring members of the Armed Forces community are not disadvantaged compared to other citizens in the provision of public and commercial services.
The charity joins more than 10,000 organisations that have signed the pledge across sectors including education, healthcare, manufacturing, hospitality, transport, retail and financial services.
RNLI Chief Executive Mark Dowie said: 'The RNLI has a workforce from all walks of life including many from different branches of the Armed Forces. Our commitment to the Armed Forces Covenant provides us with a wonderful platform to recruit people from frontline services with similar values to ours and a strong desire to serve the people of the UK.
'We are equally keen to welcome former service personnel from Ireland and see this initiative as one which will build understanding of the skills available and apply right across the RNLI.
'Our charity thrives thanks to the wealth of experience all volunteers and staff bring, and we are committed to enriching this talent within our organisation and building an inclusive place that allows everyone to succeed. We encourage all service personnel considering retirement to come and look at the opportunities the RNLI can offer.'
Dave Kelly, RNLI Lifeguard for 13 years and former Royal Marine said: 'Coming from the Marines, I already had a lot of the skills I needed to be a lifeguard. I'm used to making the right decision in high-stress situations. I know how to take orders and when to think for myself.
'There are lots of similarities between working for the Marines and the RNLI. They're both large organisations that provide me with structure in my daily routine. Both roles require fitness, adaptability and skill.
'I enjoy working in a team at the RNLI and the opportunities for progression. I started as a regular lifeguard and I'm now a supervisor, helping to run training courses.'
Admiral Sir Ben Key KCB CBE ADC said: 'I am delighted the RNLI has signed the Armed Forces Covenant and made a commitment to the service personnel, veterans and their families involved with the Institution both now and in the future.
'The RNLI has been saving lives at sea for nearly 200 years and Armed Forces personnel have often worked closely with them in this endeavour. So I really welcome that the Ministry of Defence and the charity have formalised their relationship ashore as well.'
You can learn more about the Armed Forces Covenant here, and read more about the RNLI's work to build an inclusive organisation here.
Key facts about the RNLI
The RNLI charity saves lives at sea. Its volunteers provide a 24-hour search and rescue service around the United Kingdom and Republic of Ireland coasts. The RNLI operates 238 lifeboat stations in the UK and Ireland and more than 240 lifeguard units on beaches around the UK and Channel Islands. The RNLI is independent of Coastguard and government and depends on voluntary donations and legacies to maintain its rescue service. Since the RNLI was founded in 1824, its lifeboat crews and lifeguards have saved over 142,700 lives.

Words taken from RNLI signs Armed Forces Covenant | RNLI
---