---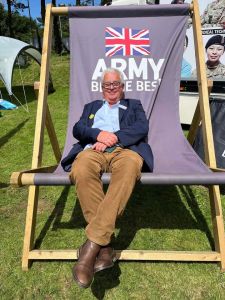 For the first time in three years, the Wessex Employer Engagement team was finally able to host and attend their 'Meet The Military' event at the Royal Cornwall Show on Friday 10th June.
With the sun shining, over thirty local employers, community leaders and dignitaries were given a guided tour of the villages and had the opportunity to meet representatives from the Armed Forces, both Regular and Reserves and engage with the local Cadet units.
Once they had completed the tours, the employers enjoyed a well-earned afternoon tea and were given an informative presentation about why their support is so important. The presentation was delivered by Councillor Louis Gardner, Armed Forces Member Champion and Chair of the Covenant Board from Cornwall Council.
The guests had an enjoyable day and found the event invaluable and new contacts were made. The ability to see and engage with certain Military stands went down very well and even the Challenger 2 Tank started its engine, much to the delight of the Wessex RFCA's Chief Executive.
Quotes from our guests
Jane Charman, Geothermal Engineering Ltd
"Hazel and I really enjoyed our time with the armed forces on Friday, thank you for organising such a fantastic event. I am now looking into our company signing up to the military covenant as well as working with CTP for future recruitment."
Mike Trebilcock, Tango3 Ltd
"Thank you for inviting me along, I really enjoyed the afternoon. As a result of some of the conversations that I had I am hoping to be able to help the cadets with some MTB and maybe competitive cycling activities and also want to see if I can use my network to make more businesses aware of, and sign up to the military covenant."
Louise Mallas, YMCA Cornwall
Thank you very much for the invite.  Both Kate and I had a lovely day and very much enjoyed meeting all the members of the services who were extremely knowledgeable and passionate about their roles and how they enjoyed what they did.  They were all a credit to their service areas including Emily, our guide for our particular group.
---