---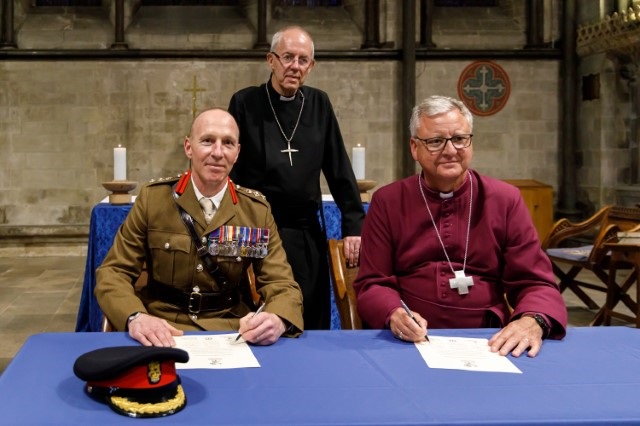 Salisbury Cathedral has become the 1000th organisation in the South West to pledge their support to the Armed Forces community by signing the Armed Forces Covenant.
The signing ceremony took place at Salisbury Cathedral during an official visit to the Diocese of Salisbury by The Archbishop of Canterbury, the Most Reverend Justin Welby.
The Cathedral is the latest in a long line of both small and large organisations from across the region who have pledged their support since the launch of the Covenant in 2011.
The Bishop of Salisbury, The Rt Revd signed the Covenant on behalf of the Cathedral, which was countersigned on behalf of Defence by Colonel Gary McDade, Commander of Army Headquarters South West, based at Tidworth Garrison.
The Diocese of Salisbury said about the signing:
"The Diocese of Salisbury is proud to have signed the Armed Forces Military Covenant. With over 40% of the British Armed Forces resident in the Diocese, the signing of the covenant is an outward expression of our commitment to deepening our partnership with the military, veterans and their families."
Colonel Gary McDade said:
"When I took over this job in February last year, I learnt that in Wiltshire 37% of the population is in the Army, was in the Army, is married to the Army, or is a child of the Army. There is no other county in the nation that has a footprint similar to that, and therefore our relationship with this city and this wonderful Cathedral is very, very special."
"Signing the Armed Forces Covenant is a very visible and demonstrable indication of your support to us, the military community… On behalf of all of the Armed Forces I acknowledge the commitment you are making to us, and we are extremely grateful for that commitment."
---